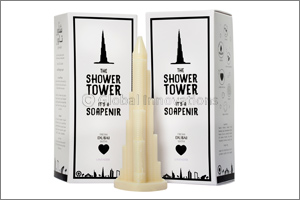 **The Shower Tower Company's Burj Khalifa shaped soap is the perfect seasonal gift**
Dubai, UAE, May 16: 2017: This Ramadan, why not gift your loved ones with a true iconic Dubai landmark in the form of a beautifully scented soap?
The Shower Tower Company has created the world's first SOAPENIR range. A SOAPENIR is a souvenir made of luxury soap that contains organic Shea butter and 100% natural ingredients. The Shower Tower offers the perfect Dubai tribute, whilst still being a functional product, making it a great gift.
The soaps contain 100% natural raw ingredients, including a high percentage of Shea butter which is a superfood for your skin. Shea butter is rich in vitamin A and E and contains the necessary nutrients which feeds your skin to produce collagen naturally. If you are short on time during your daily showering routine, using a Shower Tower means you can skip moisturising your skin post showering due to the hydrating effects of Shea butter.
Each Shower Tower is scented with 100% pure perfume oils made in Switzerland. Currently, the scent that is available is Lavender which offers further skin and body benefits such as, relief from muscle and joint pain, acne treatment and aiding in sleeping.
This Ramadan, The Shower Tower Company has packaged each product in a beautiful Ramadan sleeve, with blessings and messages on the box. All packaging used is made from 100% recycled materials.
The Shower Tower retails for AED 95 and can be ordered online or at outlets such as Love Shop Pray, O Concept Store and Dubai Loves.