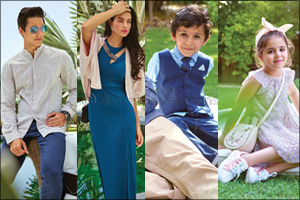 Dubai, UAE – 15th May 2017: REDTAG, the region's favourite value fashion and lifestyle brand, releases the luxe and demure Ramadan collection, with chic and modest options for the whole family. With a palette of lavish golds, deep blacks, sharp whites and warm pinks as well as a lot of sparkle and metallic accents, the Ramadan collection boasts exclusive REDTAG designs in line with cultural and religious customs.

WOMEN
With iftars and suhoors every evening, your usual outfits will quickly become exhausted! Instead of buying a whole new wardrobe, REDTAG suggests buying a few key pieces to mix and match with your existing collection. This will bring your current look to life, adding that extra flare for the festivities. REDTAG's women's collection offers a range of stunning pieces to be dressed up or down to fit every occasion and your personal style.

Add a touch of A-List glamour to your wardrobe like Arab superstar Cyrine AbdelNour with the Ramadan line from the Inspired by Cyrine collection. With Cyrine as a muse, the collection is both glitzy and elegant for a super stylish, modest look.

Start the evening right with a wrap front, black jumpsuit with a flattering wide leg. A jumpsuit is perfect worn under a long sparkly cardigan or even on top of a high-necked white shirt. Swap a pair of silver slip-ons for heeled lace-up sandals and layer on some more gold bangles from the REDTAG accessories line and you've got a selection of several gorgeous looks with one classic jumpsuit.

Break your fast with friends and family at home in effortless style with a pair of dramatically oversized gold-flecked palazzo pants with a lightweight white t-shirt for a relaxed evening look. Swap the casual tee for a long black shirt with high side slits and pair with sparkly bejewelled flats and a crescent clutch to transform the outfit in to a glamourous evening outfit.

MEN
Shirts are the hero of the men's collection, with a variety of cuts and colours to see you through Ramadan and Eid. A beige button-up shirt with a casual band collar worn with linen trousers is a perfect, relaxed outfit to break your fast in. Alternatively, for a more formal look, a classic white shirt and thin tie worn tucked into navy chinos is a stylish evening option.

For an early morning Suhoor, throw on your favourite pair of faded denim jeans paired with a graphic t-shirt for an easy style. The must-have item in men's casual wear is a long length tee with an ombre pattern such as our black tee fading in to palm leaves.

KIDS
Dress up the little ones for iftar gatherings with a variety of formal wear from REDTAG's Ramadan children's collection. Dapper little gentlemen smarten up in a lightweight linen suit with a white collarless shirt while little princesses twirl the night away in a dress embellished with gold glitter spots and tulle sleeves.

There are also plenty of fashionable options for the older kids. Young men will look all grown up in a light blue shirt with classic chino shorts, especially when paired with a grey blazer and boat shoes for a semi-casual evening look. Likewise, teenage girls transform into classic young ladies in a blush pink skater dress embroidered with black damask pattern. Wear with silver ballerina flats and a quilted pink handbag for a perfect, polished look.

Shop the full Ramadan collection in REDTAG stores across the GCC and be in with the chance to win your share of one million dirhams worth of prizes including free fashion vouchers for a year!