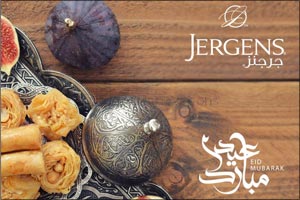 Dubai, UAE, May 11, 2017: This year, Ramadan falls in June, which is one of the hottest months during the summer. Fasting for extended periods, a sudden change in dietary habits, and the high summer temperatures can increase the potential for skin damage. Thus, it is important for women who are fasting to take extra care of their skin to help protect it from any dehydration and dullness. Jergens' brand ambassador and skincare expert, Dr. Seema Tannous is here to provide some simple yet effective tips to help you enjoy healthy looking and glowing skin during the holy month of Ramadan.
Drink plenty of water: After long hours without food and, more importantly, no water, it's essential that you replenish your body's moisture reserves from the inside out. Water is crucial to keep your skin hydrated and healthy. It's important to drink at least 8 glasses of water from Iftar until Suhoor, to help balance out the water consumption of your body, especially during summer's hot weather. To complement your water intake, try to drink liquorice juice because it's an excellent remedy for dehydration.
Even skin tone: High exposure to the sun during fasting hours can cause unwanted freckles, blotching and discoloration to the skin. If you want to maintain an even skin tone, avoid sunbathing as much as possible and avoid direct exposure to the sun during fasting hours, specifically from 12pm to 4pm. To supplement your skin protection regime, try the Jergens BB Body cream, winner of Product of the Year in Gulf 2017, which is designed to deliver 5 visible benefits in 5 days and to help achieve an even skin tone.
Product: Jergens BB Body Cream 200ml
Price: 30 DHhs
Overall hydration: Since your body will not be receiving its normal nutrients while fasting, your skin will also need some extra help to stay hydrated on the outside. To do this, try applying a little more of your daily moisturizer than usual by using a product like Jergens Softening Musk Lotion which contains enriching Vitamin E, completed with a beautiful Arabian Musk fragrance. This unique formula will help to provide your skin with long lasting moisture, leaving it looking, feeling, and smelling beautiful.
Product: Jergens Softening Musk Lotion 200ml
Price: 13 Dhs
Make smart food choices: It's important to always include vegetables and fruits that are rich in vitamins A, B, C, and anti-oxidants into your Iftar and Suhour meals to help maintain beautiful skin. These vitamins are known to help fade dark spots, smooth any skin roughness and boost hydration of the skin. Also, since Ramadan is known for its sugar-loaded Arabic desserts such as Kunafa and Atayef, it's important to monitor your sugar consumption. Be sure to use a vitamin-filled lotion like Jergens Ultra Healing moisturizer, rich in Vitamin C, E and B5.
Product: Jergens Ultra Healing moisturizer 200ml
Price: 13 Dhs
Prevent dark circles from appearing: Ramadan usually consists of late-night suhours and gatherings, which can leave you with little sleep resulting in puffy eyes and dark circles. Catching up on your beauty sleep helps to avoid dark circles from appearing around your eyes and from looking tired. Ensure a proper night's sleep of a minimum of 7 to 8 hours to provide adequate time for your body to repair and rejuvenate during the night. To help repair your skin, apply the Jergens Overnight Repair Nightly Restoring Moisturizer which works with your body's natural restorative process to hydrate and visibly renew skin. During the day, use a light eye cream and try resting cool tea bags on your eyes to help soothe any dehydrated and sensitive skin around the eye area.
Product: Jergens Overnight Repair Nightly Restoring Moisturizer 200ml
Price: 13 Dhs
Stick to your sunscreen: While you're out and about during the day, protect your complexion with a good sunscreen that protects against UVA & UVB rays. These rays from the sun can be extremely damaging to skin. Not only can they promote pigmentation problems, but they can also damage the skin's collagen and elastin leading to early aging in the form of wrinkles and skin sagging. It's important to remember to protect the hands from harmful UV rays with Jergens Bright Revival Hand Cream which has SPF 20 that will help contribute to the health and the protection of your skin.
Product: Jergens Bright Revival Hand Cream 100ml
Price: 21 Dhs
Following these special skincare tips during Ramadan will help you to look fresh and radiant during the altered lifestyle of fasting and summer heat that this Ramadan brings.