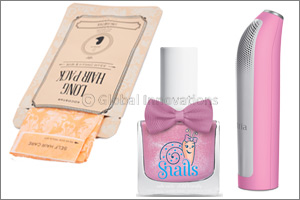 Dubai, UAE, May 8, 2017: To embody the spirit of Ramadan and keep your skin and hair well-nourished while fasting, we have put together a list of beauty products that can be incorporated into your daily routine.
Labo Transdermic Fluid Base SPF 50 - A light weight foundation that penetrates deep into your skin to offer effective protection against the harsh rays of the sun.
Price: AED 249, Available at Bin Sina Pharmacy
Filorga NCTF- REVERSE Day Cream - Enriched with shea butter, the smooth and comfortable texture of this cream helps in repairing and restoring dry skin.
Price: AED 450, Available at Boots Pharmacy
FarmHouse Fresh Guac Star Avocado Mask - Packed with all the skin perfecting nutrients of avocados, this soothing and hydrating mask is gentle enough to be used daily.
Price: AED 117, Available at The Westin Dubai Al Habtoor City
Nip+Fab Glycolic Fix Radiance Shot - Treat your skin to a high dose of luminosity with this nourishing and light-weight facial oil.
Price: AED 169, Available at Spinneys
Fillerina Plus Night Cream - A nourishing and revitalising anti-aging cream that helps in restoring moisture and repair dry skin.
Price: AED 499, Available at Bin Sina Pharmacy
The Shower Tower - Shaped in the form of the iconic Burj Khalifa, this lavender scented soap is enriched with the nourishing goodness of Shea Butter.
Price: AED 95, Available at O concept Store.
Water Wipes - Free of all chemicals, these wipes are perfect for nappy rash and for other sensitive skin conditions such as eczema, psoriasis and acne.
Price: AED 27, Available at Spinneys
Grown Alchemist Tinted Hydra-Repair Day cream: Hydrate, repair and glow with this organic tinted moisturiser that is helps improve moisture retention and keep your skin hydrated.
Price: AED 195, Available at Harvey Nichols Dubai
SHOW Beauty Pure Treatment Oil - A multi-functional light-weight elixir oil that is enriched with antioxidants and nutrients to leave hair renewed, strengthened, and deeply nourished.
Price: AED 290, Available at Harvey Nichols Dubai
SACHAJUAN Over Night Hair Repair - A gel product based on pure water, this product penetrates deep into each hair strand and helps in building in strengthening and repairing your hair from within.
Price: AED 330, Available at Harvey Nichols Dubai
ColorWOW Root Cover Up - Steer clear of chemicals and cover your roots in an instant with this water-resistant mineral hair powder that is available in various hues.
Price: AED 210, Available at Bloomingdales
KOCOSTAR Home Salon Hair Pack - A nourishing and soothing hair treatment that hydrates and rejuvenates dry damaged hair.
Price: AED 29, Available at Namshi.com
Snails Nail Polish (Glitterbomb) - Chemical free water-soluble nail polish that can be removed with just water and soap.
Price: AED 42, Available at Hamleys
Tria Precision Hair Removal Laser - Ditch the regular visits to the salon for waxing with this easy to use hair removal laser that easily allows you to permanently remove unwanted hair.
Price: AED 1,650, Available at Harvey Nichols Dubai