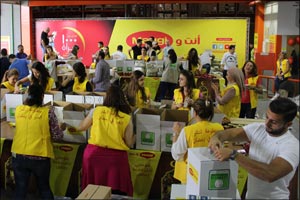 Dubai, UAE, July 4, 2016: MAGGI®'s 1000 women for good initiative, first launched in 2012, has once again this holy month of Ramadan collaborated with over 1,000 women from across the region, to help provide over 14,000 underprivileged families with food baskets to help prepare nutritious and tasty meals for Suhoor and Iftar.
Over 14,000 "Baskets of Goodness" containing essential food items such as soup, rice, pasta, tomato paste, lentils, vegetable oil and flour, were delivered to homes across the GCC & Levant including Palestine, to ensure families had enough to prepare for meals and enable loved ones to spend time together while encouraging healthy eating habits. 1,000 "Baskets of Goodness" were distributed in the UAE alone.
To make the initiative possible, MAGGI worked closely with a number of NGOs across the region including Food Bank in the UAE, and female figureheads, to recruit 1,000 volunteers dedicated to making a difference in the lives of thousands of families.
Also showing their support during the holy month of Ramadan are 35 influencers from the region, both in person and online, encouraging others to help others and give back! Amongst these kind participants is Ghada El Tally Assia Othman, Eman Gazzaz , Marwa salem ,Summaya Obaid , Raneen Joda and Zahra Abdallah , Judy and many more.
"Ramadan is a particularly blessed time to give and make a difference in the lives of others, and that's what MAGGI is all about. In its fourth successful year, MAGGI® is proud to continue the '1000-women-for-good' initiative empowers & inspires women to come together during Ramadan providing a platform for to make a difference in their own lives and in the lives of their communities, by sharing flavors and tastes of regional cuisines." said Jessy Abdulnoor, Marketing Manager at MAGGI® at Nestlé Middle East. "The experience continues to be rewarding and we hope that we are able to make a real difference in the lives of many."