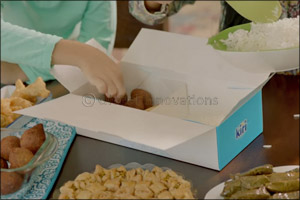 Dubai, UAE, June 23, 2016: During the holy month of Ramadan, people look forward to Iftar more than anything. The month is dedicated to reflection, unity, compassion, and giving—and Iftar is a celebration of all of these. Few things are better than a delicious homemade meal at the end of the day, and at Kiri, we know that Iftar tastes even better when it's shared. This year, share your Iftar beyond your friends and family; share it with people in your community who will enjoy and benefit from it.
This year, Kiri is leading an initiative dedicated to sharing. By providing an easy and accessible way for families to donate a portion of their food from Iftar, Kiri is encouraging giving in the spirit of Ramadan. To take part in the #BetterWhenShared movement, participants can pick up a special Kiri box for their extra food for free, or they can make a box of their own.
For more information and to find out how you can put a smile on somebody's face this Ramadan, follow Kiri on Facebook and Instagram and visit www.kiriarabia.com/en/csr.
Ramadan Kareem!