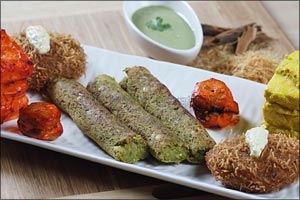 Punjabi By Nature, a Punjabi cuisine restaurant located in the heart of Oud Metha, introduces its Iftar dinner for the holy month of Ramadan
With a new menu to choose from every day, Punjabi By Nature's Iftar menu offers non-vegetarian and vegetarian options to suit every diet
Punjabi By Nature also provides free home delivery during the day
Dubai, UAE, June 18, 2016: Punjabi By Nature, a restaurant that weaves a tale of Punjab's rich heritage through food, presents its Iftar buffet menu available after Iftar timings throughout the holy month of Ramadan. Chef Vineet Kumar from Punjabi By Nature has created a daily menu for dinner that includes a concoction of tasty curries and spicy tikkas that are light and filling for Iftar. Each menu has been specially created to ensure a variety of flavors and tastes at an affordable price suitable to all, available every day throughout the month.
Sharan Kakwani, Founder, Punjabi By Nature, said, "We wish the city a blessed Ramadan, and in tow with the sentiments of the region we have created a special iftar menu for every day of the week available throughout Ramadan. Our tasty recipes, available in veg and non-veg options to cater to every palate, weave a perfect tale of spices travelling from Amritsar to Lahore in the days before the partition of India. We have created a light menu per day that is in keeping with the teachings associated with this holy month that also provide great taste in the process."
From scrumptious cottage cheese with spices created in-house, to curried chicken and rich Indian desserts. Punjabi By Nature narrates the story of Amritsar before the partition of India through the flavours of the city laced through Indian food.
Nirvi Gosalia, Co-founder of Punjabi By Nature, said, "We are an authentic Punjabi restaurant, and our Iftar menu not only complies with the traditions of our heritage, but also with those of our visitors during this holy month. We provide an assortment of items from starters to main courses to choose from in our daily Iftar dinners, and create a home-like atmosphere for people from all walks of life to enjoy. Our goal with our Iftar dinner is to make the month a family-orientated time at the restaurant. Our servers make you feel right at home, and with our inclination towards heritage we stay modern. If you love authenticity, you are Punjabi By nature!"
Punjabi By Nature's Iftar menu is available every day from Iftar timing onwards at AED 68 from Saturday to Thursday, and AED 73 on Fridays. Punjabi By Nature also provides home delivery throughout the month of Ramadan.