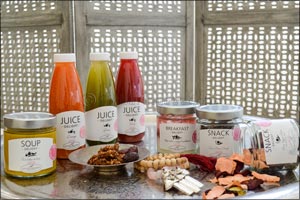 ** Prices starting from AED 370 per day **
Dubai, UAE, May 22, 2016: Dubai-based Detox Delight presents an exclusive Ramadan package to help your body retain all the vital vitamins and goodness it needs during the Holy Month of Ramadan.
During Ramadan the lack of food and drink throughout the day, as well as the extra stress placed on your digestion system by breaking fast at Iftar, can take its toll on your metabolism, leaving you feeling tired and bloated. Detox Delight understand the effects that fasting can have on your body and have created an exclusive Ramadan package, with a carefully designed menu to help your body recover and revive. All their delicious juices are organic, vegan and made in UAE and prices start from only AED 370 per day.
* Tradition
Tradition can be maintained as you break your fast with two delicious organic dates, grown right here in the UAE on Greenheart Organic Farms before you indulge in a 100% raw, vegan, organic and freshly prepared hearty Detox Soup. Combine this with the refreshing Detox Lemonade during your Iftar, and you'll make sure your body is packed with vitamins and minerals after spending the whole day without food or drink. The addition of nutritious liquid food into your diet helps to give your metabolism a much needed boost.
* Maintain
Fasting for long periods throughout the day at this time of year means it is especially important to pace your food intake and not overload your digestive system. With Detox Delight's healthy and hearty juices and soups, your digestive system can easily regain a plethora of vital vitamins and organic goodness. Delicious juices also help maintain your energy levels, strengthening your immune system, providing your cells with energy, while balancing your acid-base. All of this is achieved without sending your blood sugar soaring, as all juices are sugar and additive free.
* Detox
Ramadan is the ideal opportunity to break the eternal vicious food cycle of delicious, but oh so unhealthy sugar and carbohydrate-rich foods. The carefully designed Ramadan menu, which continues with two fruit and vegetable juices to drink throughout the evening, will help you break the cycle of industrially processed foods, leaving you with more desire for fresh natural foods, fruits and vegetables. Snacking is even made healthier with Detox Delight's Snack Delights; the moreish Spicy Chips and Crunchy Granola as well as the brand new Raw Vegan White Chocolate Cranberry Bar which help to keep your evening hunger at bay.
The Ramadan package by Detox Delight will help you choose wisely during the Holy Month of Ramadan, with prices starting from AED 370 per day, depending on location in the UAE.
Taking care of your body is not just for Ramadan and Detox Delight understand that busy lifestyles don't always allow for a 7 or 12 day juice cleanse. Their 3-day mini cleanses offer you the same benefits of a traditional juice cleanse without the time commitment, because even small steps in the right direction can make a big difference. Try one of the 3-day cleanses to experience the three great benefits of juice cleansing; a great immune system boost, reduced bloating and a chance to finally break the cycle of poor eating habits. The 3 Day Detox is available across the UAE, with prices starting from AED 1,120 depending on location.
More than a juicing company, Detox Delight also offer Wedding Detox, Charcoal Beauty Shots, Flex Pack, Ramadan Delight and many other healthy options. All Detox Delight juices are naturally organic, raw, vegan and gluten-free.
MORE INFORMATION ON JUICE CLEANSES
Going without solid food during a juice-only cleanse takes all of the strain off the digestive system. Up to 70% of the body's own energy is used to break down solid food. During a juice cleanse, this energy can instead be devoted entirely to repair mechanisms such as cell regeneration. Just five consistent detox days flood the body with beneficial vitamins, antioxidants, plant-based nutrients and enzymes that help the body to restore its natural balance and lastingly boost the metabolism. For renewed energy, a slimmer figure and an enhanced sense of well-being.