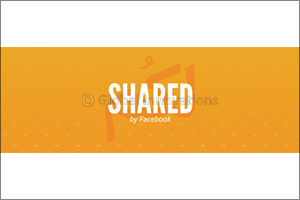 Dubai, UAE, 30 April 2019: Ramadan is an important time of the year for billions of people around the world who come together to spend quality time with family. Bringing the world closer together, Facebook's online community continues to grow with its user base reaching 183M in the MENA region – 86 percent of whom celebrate Ramadan. This surge in consumption provides communities and businesses an opportunity to engage more meaningfully with their audiences.
Home to locally-relevant and data driven insights, as well as inspiring community stories during Ramadan, "SHARED by Facebook" offers brands and people an easy-to-navigate platform to help them make the most out of these moments.
According to Facebook IQ, brands have 57.6 million more hours to capture attention during Ramadan due to the additional time spent on Facebook during that month. Thanks to shorter working hours and holidays that translate into more leisure and rest time, people in the Middle East increase the time they spend on mobile and social media during the holy month, spending 5 percent more time on Facebook during Ramadan than any other time of the year.
This peak in mobile usage is testament to the wider growth in e-commerce activity in the region. According to Criteo, an analysis of last year's sales trends revealed a surge in online sales in the Middle East region in the lead up to and during Ramadan. The study identified two peak moments of online shopping activity, revealing that shoppers in the Middle East typically shop early into the season and slow down closer to Eid al-Fitr to focus on the celebrations, then pick up again during the Eid. Data showed that in 2018, the weekly mobile share in sales surged by 17 percent during Eid al-Fitr versus 13.1 percent in the second week of Ramadan, while mobile travel bookings increased by 47 percent during Eid al-Fitr. In-app sales also grew by up to 79 percent, indicating that consumers may be inclined to buy within apps when they provide an easy and convenient shopping experience.
Ramez T. Shehadi, MENA Managing Director at Facebook, said, "Ramadan is a time to connect with friends, family and faith. It is a period shared by so many around the world whether fasting or breaking bread, praying or reflecting, celebrating or shopping. As such, 'Shared by Facebook' provides everyone with a place where they can learn about some of the most inspirational initiatives happening in their communities. Across the region, Facebook has been instrumental in enabling communities to connect and build positive social impact during Ramadan: from Facebook's 'Giving is in Your Blood' to 'Hack for Good initiative' and 'Ramadan Fridges', we've seen people use our platforms to bring brilliant ideas to life and address important issues while bringing people closer together. During Ramadan, we want to share a deeper understanding of the experiences of our audiences by availing a hub for advertisers that offers unique opportunities to create personalized content and moments that cultivate a real connection with audiences."
In 2018, the 'Giving is in Your Blood' Hack for Good initiative in collaboration with The International Federation of Red Cross and Red Crescent Societies (IFRC) was shared across Facebook and Instagram. The initiative tackled the issue of decreased blood donations during the month of Ramadan using a series of short videos as part of a campaign that addressed misconceptions and appealed to the good nature of audiences in the region." The campaign significantly reversed the trend, with blood donations increasing in all nine countries ranging from +5% in Jordan to a noteworthy +88% in Egypt. The campaign contributed to an overall +36% increase in blood donations between 2017 and 2018 for Iraq, Jordan, Palestine and Egypt.
Highlights from Ramadan insights last year indicate over 280 million people globally had about 3 billion interactions with Ramadan 2018-related content. At the end of Ramadan 2018 more than 150 million people worldwide came together on Facebook to wish a "Happy Eid" to their community.