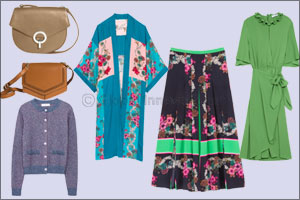 Dubai, UAE, June 5, 2018: Sadly, there are only two weeks left to Ramadan, and people are still people enthusiastically trying out different iftars around town during the holy month. In every tent in Dubai, you see gorgeous women dressed in elegant dresses and you never tire of such a beautiful sight. Especially because Ramadan is half-way done, it means you should step up your game in your Ramadan wardrobe.
Sandro offers a beautiful Ramadan collection for Summer 2018 that will put you on the map this year. The line includes kimonos, dresses, rompers, top and bottoms. Each piece is a great one to consider and they come in beautiful floral prints as well as plain, elegant piece. The pieces are quite flowy, which perfectly sticks to the modest dress code of Ramadan. The colors they come in are just vibrant and beautiful, such as green, blue, orange and a combination of these colors.
For a Ramadan day look, you can pair your kimono with your favorite jeans and a simple blouse or shirt, and for a Ramadan night look, you can put on a stunning long dress from Sandro with or without a kimono. Just sit back, take a look at the Sandro Ramadan Summer 2018 collection and let Sandro inspire you this Ramadan/Summer.