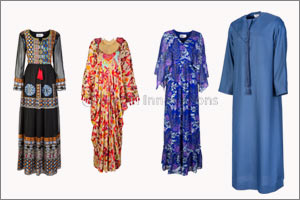 Dubai, UAE, May 27, 2018: Exceptional wardrobe collection and events like no other await you at Robinsons
Robinsons provides you with the best in fashion with its ultra-sophisticated Ramadan collection you cannot find elsewhere. Embrace Ramadan's spirit with outstanding outfits for women, men and kids with brands such as Shaira, Bait Al Kandora, Monnalisa, and il Gufo.
Ladies, get ready to go glam and celebrate the holy month in style. Our collection features an array of embellished and embroidered kaftans, dresses and kaftan dresses. The collection exudes elegance with pieces featuring multicolor oriental patterns suitable for day time events or Suhoor gatherings. This unique collection celebrates oriental look embracing modern touch. The little ones have their share in this exciting Ramadan collection with streetwear style from brands such as Monnalisa featuring bomber jackets with sequins and handbags with vibrant colors.
Our range for all the elegant men includes quality tailored abayas to satisfy the taste of those looking for style and comfort. The collection shines with a color palette that includes dark navy and gold yellow. Also, make sure to check what the leading department store John Lewis has to offer in household items, furniture and home accessories through combining luxury with Arabic designs.
For the ultimate experience, Robinsons promises you nights of delight with the daily and weekly events in the store ranging from art galleries, henna sessions with professional artists, ladies Suhoor, and music filling up the air with oud playing.
All this and more awaits you at Robinsons; visit us throughout Ramadan at Dubai Festival City for outfits that cater to every taste and magical events.