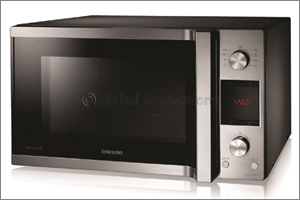 Dubai, United Arab Emirates, April 28, 2020: The Holy Month of Ramadan brings families together in kitchens around the world at sunset each day following abstinence from food and drink since sunrise. Food is very much at heart during this special period, and consumers can enjoy fresh, healthy, and fast cooked meals with Samsung kitchen appliances.
RS65 Side by Side FlexZoneTM refrigerator with All-around cooling
More space to store fresh food – Ever purchased food from the supermarket, but did not have enough room to store it all in the fridge? With FlexZoneTM, you can store fresh and healthy food in higher quantities thanks to SpaceMaxTM technology. The spacious 617-liter interior and thinner walls with minimal high-efficiency insulation means you have more storage space for your favorite ingredients.
A variety of foods and drinks stored at the optimal temperature – Take advantage of the flexibility to switch between four cooling modes with FlexZoneTM. A range of your favorite foods and drinks can be stored at the correct temperatures, so they stay fresh for more extended periods – reducing the risk of food poisoning. The four pre-set settings are ideal for preserving meats, cooling drinks, keeping fruit and vegetables clean, and storing food.
Fast cooling and freezing on-demand – Need to freeze food or make ice quickly? At the touch of a button, Power Cool blows intensely cold air into the fridge to quickly cool your groceries or favorite drinks, and Power Freeze delivers a fast blast of cold air into the freezer.
RT85 2-Door Top Freezer refrigerator with Twin Cooling PlusTM system
Ultimate storage flexibility – With five conversion modes on demand, the freezer can be easily converted into a fridge so you can prepare all the food you need in the days ahead while making sure it stays as fresh as possible.
Store products in the best conditions possible – Bacteria are eliminated through an anti-bacterial mesh, and the air is passed through an Activated Carbon filter, so the environment is continuously sterilized. Twin Cooling Plus system also cools the compartments separately to stop odors spreading from the fridge to the freezer, so frozen foods retain their original flavor.
Serve your favorite items without having to wait – The detachable Deli Tray has a compact design that makes efficient use of the wasted space in the fridge. Deli foods and other freshly prepared meals can be perfectly stored and preserved, so you can serve items immediately without having to wait at a time convenient to you.

MC455 Convection Microwave Oven with Smart Senor
Sensors that help cook food to perfection – Samsung's SmartSensor technology automatically detects the humidity level of your food, and then sets the optimal cooking time and power so all dishes are perfectly prepared every time.
Make bread and yogurt in less time – Whether you're baking bread or preparing yogurt, you no longer need to search for a safe, warm, and draft-free environment. With Fermentation Mode, perfect, even, low-warm temperatures are guaranteed that quicken the whole process and produce brilliant end results.
Ceramic enamel serves up an easy-to-clean, hygienic interior – Clean cooking appliances are fundamental to ensuring and enjoying fresh food. Ceramic enamel provides a smooth inside surface that can be cleaned effortlessly, so the appliance boasts a perfect cooking environment at all times.