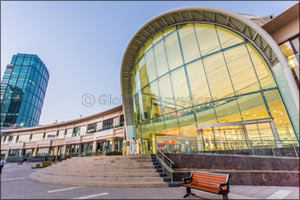 Dubai Festival City Mall and Festival Plaza will open on Saturday 25th April with reduced trading hours
Dubai, United Arab Emirates, 25th April 2020: In accordance with the announcement by the Supreme Committee of Crisis and Disaster Management, Al-Futtaim will open its malls across the UAE on Saturday 25th April with trading hours of 12pm-10pm. Family entertainment, cinemas, gyms, prayer rooms, changing rooms and shisha services will remain closed, as per the directive.
The opening comes in line with the supreme Committee of Disaster Management's announcement of the partial easing of restrictions on movement in Dubai. Prior to opening, both malls are mandated to comply with the various guidelines and protocols and the partial opening is within strict health and safety guidelines.
Visitors to the malls must also adhere to health and safety rules while in the malls, including the requirement that they wear masks at all times, sanitize their hands prior to entering the mall, only spend the time they require at the mall and ensure a physical distance of two metres from others at all times. In addition, visitors over 60 years of age and children aged between three and 12 years old will not be permitted to enter either mall.
Timothy Earnest, Group Director, Al-Futtaim Malls commented: 'We continue to abide by all directives issued by the Dubai Government and welcome this decision to partially reopen our malls. We will operate in accordance with all guidelines to ensure the health and safety of our employees, customers and tenants. Since the beginning of this pandemic, we have all been in this together, collaborating with the Government to ensure the safety and wellbeing of our staff, customers and tenants, and with this opening, health and safety continues to be our number one priority. With this in mind, we implore all visitors to fully comply with the precautionary measures in place at our malls.'
He added: 'This is an important milestone on our journey; we are progressing together and continue to work with the Government to support their campaign. We thank the UAE Government for all the initiatives they have taken so far to get us to this point, so we are able to open our doors to better serve our community as we enter the Holy Month of Ramadan.'
Dubai Festival City Mall benefits from having the expertise of its Healthcare Division on site with the fully equipped HealthHub Clinic on its premises which will be on-site for any customer needs as well as on call for Festival Plaza. Since the beginning of the pandemic, Al-Futtaim Health Division has been playing a key role in sharing the health care burden across the UAE. One example of this has been the drive thru testing centers it has rolled out across the country. Launched in October 2019, the HealthHub provides accessible, integrated health management supported by smart solutions in a casual, happy and insight-driven environment.
Retailers that will open as of Saturday 25th April include IKEA, Marks and Spencer and Robinsons department store. Hypermarkets, pharmacies and money exchanges will continue to trade as usual. Al-Futtaim Malls will apply standard Ramadan trading practices across the Malls and all entertainment like the IMAGINE show on Festival Bay will be suspended as per directive until further notice.