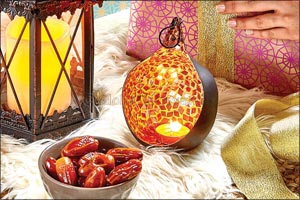 Store offers a wide range of products to cover all your Ramadan essentials from kitchen appliances to home décor, gifting and more
Dubai, May 01, 2019: Al-Futtaim ACE, the home improvement and lifestyle store has launched its new and exciting collection that is sure to refresh and revitalize your home for Ramadan.
The collection, which is available across all its stores in the UAE, features over 500 new and exclusive products designed to entertain family and friends ranging from cooking, serving, décor, small appliances and outdoor.
"This Ramadan, we have everything you need to refresh your home all under one roof," said Justin Roberts, Senior General Manager at Al-Futtaim ACE. "Whether you're looking for kitchen essentials, appliances, dinnerware, home décor or even gifting products, the ACE Ramadan collection has the perfect blend of traditional and modern and will help customers add their personal style to their home. We wish all our customers a Ramadan Kareem."
The Al-Futtaim ACE Ramadan collection addresses the specific needs during the month of Ramadan, offering products that cater to the areas of Cooking & Preparing, Decorating & Entertaining and Gifting & Travel with unbeatable prices.