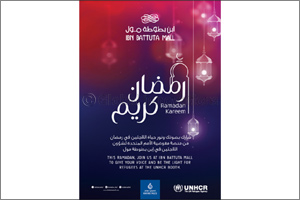 Visit Voices for Refugees from 5 May to 5 June
Dubai, 1 May 2019: Ibn Battuta Mall has partnered with the United Nations High Commissioner for Refugees (UNHCR) this Ramadan for Voices for Refugees, a campaign aimed at raising awareness on the plight of refugees globally.
Located at India Court, Voices for Refugees showcases the life of a refugee through immersive virtual reality video tours that highlight the effects of humanitarian crises around the world. Timings are 10 am to 10 pm daily from 5 May to 5 June.
This Ibn Battuta Mall activation is a part of the wider Voices for Refugees initiative by UNHCR dedicated to improving the lives of refugees, including women and children.
Ibn Battuta Mall will also welcome 200 orphaned children throughout the Holy Month for a fun-filled day of shopping, entertainment and dining in association with Emirates Red Crescent and Rawafed Development & Learning Centre.
This is the fourth consecutive year that Ibn Battuta Mall is hosting children for a specially-curated experience to celebrate the spirit of Ramadan with personalised offers from retailers.
Visit Ibn Battuta Mall for a blessed Ramadan.
The mall is open from 10 am to 12 midnight on weekdays. At weekends, including Thursdays, shops are open until 1 am, with restaurants and cafes open from sunset to 2 am.