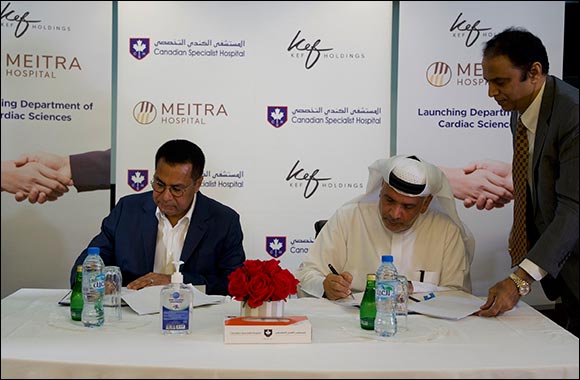 Collaborative platform to offer a complete range of advanced cardiology services, including surgery
Dubai, July 28, 2021: Canadian Specialist Hospital (CSH) and KEF Healthcare have signed a MoU paving the way for the establishment of a Centre for Cardiac Sciences in Dubai which will offer a complete range of advanced cardiology services.
The Centre for Cardiac Sciences located within the CSH premises will operate on the Meitra Care Network (MCN) of KEF Healthcare, and will have renowned specialists in cardiac sciences, including a panel of surgeons and physicians, from Meitra Hospital of the South Indian state of Kerala on board. This centre, due to open in October 2021, will link five countries — UAE, Kuwait, Oman, Iraq and Qatar — bringing efficient, worldclass and affordable healthcare to all.
Mr. Mohammad Rashid Al Falasi, Chairman, CSH said: "Opening the Centre is a milestone for CSH as it will be a unique concept in action bringing seamless advanced cardiac healthcare of global standards to patients, leveraging the MCN platform of KEF Healthcare. The centre's key USP will be its digital backbone and advanced technological prowess, a first-of-its-kind in the Middle East."
"The technology-leveraged healthcare hub will bring a host of diverse cardiac and medical services under one umbrella, including tele-consultation, telemedicine, diagnostic expertise, critical care and surgical support services, apart from healthcare advisory in many disciplines," he added.
Mr. Al Falasi, and Mr. Faizal E. Kottikollon, Founder Chairman of KEF Holdings and Meitra Hospital signed the MoU.
As part of the terms of the MoU, a full-time MCN team will be deployed at the centre. The full-fledged Centre for Cardiac Sciences will offer all heart-related surgical procedures. Other services which will be added to the bouquet will be orthopedics offering robotic surgery and spine critical care treatment and advanced neurosciences.
"The advantage the centre will bring to Dubai is in leveraging MCN's network of experts and medical professionals from across the world. MCN will open up healthcare collaborative opportunities for successful treatment of patients, enhancing in turn the reputation of the city-state as a regional healthcare hub, said Mr. Kottikollon.
Mr. S. Gopinath, Chief Strategic Officer, Canadian Specialist Hospital, said, "We look forward that this partnership is a major step towards transforming our hospital as an international medical destination for tertiary and quaternary care. The centre will cater to patients, within and beyond the UAE, needing complex cardiac care. This collaboration sets new benchmarks in the field and serves people in line with the vision of Rulers of this nation to bring global standard healthcare."
The centre will bring patients and doctors, as well as primary, secondary, tertiary and critical care service providers, under one integrated system, connected through hard and soft infrastructure. This will reduce downtime and wastage of resources, resulting in better utilisation of doctors, laboratories, operation theatres, and healthcare facilities.
The centre will add value to the CSH reputation as a super specialty hospital providing high-end treatments which are spread in phase wise launch including acute cardiac care to angioplasties, neuro spine surgeries, joint replacements, obstetrics and gynecology, pediatrics, neonatal care in the first phase and leading up to heart and lung transplants in the second phase of the partnership.
The partnership will also pave the way for CSH to develop specially designed healthcare packages as well as introduce specialized surgeries at affordable prices.
Dr KR Balakrishnan, world-renowned expert in heart and lung transplant & mechanical circulatory support, will play a key role in this partnership of MCN and CSH. Dr Balakrishnan is also an acclaimed expert in cardiothoracic surgery and his evidence-based approach in healthcare practice has been well acclaimed. Known for refining clinical expertise in surgery, his expertise includes end-stage heart failure management, pediatric cardiac surgery as well as lung and heart transplants.