PRIZES TO WIN AS TRAINYAS AND WOLFI'S BIKE SHOP LAUNCH 'CHASE THE WOLF GANG' TIME TRIAL FOR CYCLISTS
BEAT THE LAP TIME SET BY WOLFI'S TO BE ENTERED INTO A PRIZE DRAW
THE FASTEST MALE AND FEMALE CYCLISTS WILL ALSO WIN A PRIZE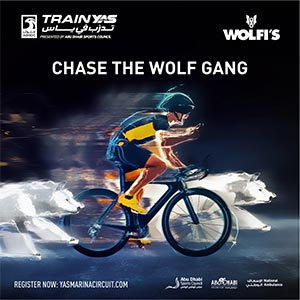 Yas Marina Circuit, Abu Dhabi, UAE, June 14, 2021: Cyclists taking part at ADNOC TrainYAS presented by Abu Dhabi Sports Council are urged to 'Chase the Wolf Gang' in a bid to win some fantastic prizes.

In collaboration with Wolfi's Bike Shop, ADNOC TrainYAS presented by Abu Dhabi Sports Council presents a single lap individual time trial, taking place on Tuesday June 15, with guests invited to record a 'HOT LAP' while cycling on the circuit. The time to beat is 7 minutes and 40 seconds.

To take part, riders will need to register through yasmarinacircuit.com with registrations open until the end of TrainYAS on the event day.

On arrival at TrainYAS, participants need to proceed to the Wolfi's container, collect their timing chip and enter the track as normal.

A start/finish timing point will be in place during the TrainYAS session with riders given the opportunity to complete as many laps as they wish in this period. The fastest lap recorded will count.

The fastest male and female cyclists will win a prize, while anybody who beats the lap time set by Wolfi's will be entered into a draw to win a prize provided by Wolfi's Bike Shop.

The timing point, in operation prior to Turn 7, will activate once when a rider passes, and then again when they pass for a second occasion, recording an accurate one-lap time.

Entry to participate in the activation is free. However, participants will be required to leave a holding deposit of AED100, or an Emirates ID, with a customer service representative at the Wolfi's container, which will be returned once the timing chip is handed back.
A fantastic, fun challenge, the time trial is open to all and provides participants with a perfect opportunity to compete for prizes while improving fitness levels at the same time.

So, whether you want to set yourself a time to beat or compete against friends and family to see who's fastest, head down to Yas Marina Circuit and get involved.

Please note, drafting and time trial bikes will not be permitted during the challenge.
In April, it was announced that Abu Dhabi Motorsports Management and Wolfi's Bike Shop had signed an agreement for the store to become a partner of Yas Marina Circuit's ComYAS programmes.

The move ensured Wolfi's Bike Shop would be known as the Official Cycling Activation Partner of both ADNOC TrainYAS presented by Abu Dhabi Sports Council and ADNOC TrainYAS Ladies presented by Abu Dhabi Sports Council, along with TrainAM by Abu Dhabi Cycling Club.
As well as being known as the Official Cycling Activation Partner of the three Community YAS events, Wolfi's dedicated retail space at the Community YAS Village is open 6 days a week and able to provide bicycles for hire and the purchase of accessories.