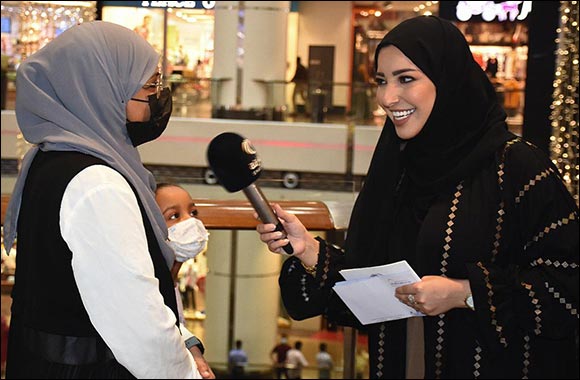 Sharjah, May 15, 2021: Many shoppers have celebrated their Eid with wonderful prizes and gifts after winning in the big raffle draw held on Friday evening at Sahara Centre Mall as part of the 31st Sharjah Ramadan Festival 2021, organized by the Sharjah Chamber of Commerce and Industry (SCCI).
The big winner was from Egypt, Asmaa Al Awani, who won the grand prize, a brand-new BMW car, while 5
City Centre Al Zahia will be last the stop for the 31st edition of the Sharjah Ramadan Festival, where the final raffle draw will be held at 8 pm offering shoppers 2 BMW cars, 5 shopping vouchers worth AED 5000, 10 shopping vouchers worth AED 2500, and 5 Samsung smartphones.
Congratulating the winners, Jamal Bu Zinjal, General Coordinator of the Festival, said that the Emirate of Sharjah is always keen to draw a smile on the faces of its population to cement the emirate's status as a destination for families wishing to spend good times in a festive atmosphere, pointing out that the prizes offered by the SCCi and shopping malls were a big source of happiness for thousands of the shoppers and visitors from various nationalities who flocked to the Festival to tap into its amazing deals and discounts.

Hana Al Suwaidi, Assistant General Coordinator of the Festival, pointed to the concerted efforts of all concerned parties to make every edition of the Sharjah Ramadan Festival more glowing and better than the previous one, affirming that the festival has become an important landmark in terms of enhancing Sharjah's status as a tourist, economic, and cultural destination.

Lauding the efforts of the Festival's media partner - Sharjah TV - for their outstanding support and role in covering all the activities and events of Sharjah Ramadan Festival, Amal Al Hosani, Head of the Festival Media Committee, attributing these efforts to the keenness of both entities to strengthen the competitiveness of Sharjah economy, fulfill the needs of the private sector, and contribute to the development of all sectors in a sustainable way.