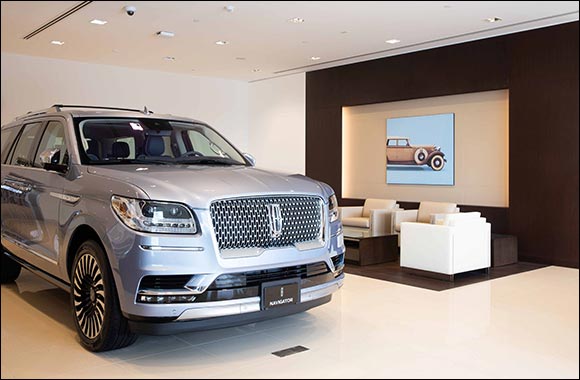 Dubai, United Arab Emirates, May. 02, 2021 – Lincoln continues to steadily steer through challenging times with a successful first quarter of 2021 in the Middle East. The brand announced a 21% increase in sales in the GCC; the highest first quarter increase since 2016. The top performing models in the first quarter included Lincoln's flagship model, the Navigator, which grew by 7% vs. the prior year, next to the Aviator and Corsair which grew by 108% and 98% respectively.
Sami Malkawi, Managing Director, Lincoln Direct Markets, said: "After 2020's fantastic results and a very strong fourth quarter, we are delighted to maintain this strong performance and exceed it by a significant Quarter on Quarter increase in sales of 13.9%. These substantial results demonstrate the success of Lincoln's robust strategy of focusing on the customer journey, which has ensured the brand navigates unprecedented times and continue to exceed expectations."
"We would like to thank our distributor partners in the region for their outstanding commitment, they continue to be the the main authors of Lincoln's success story in the Middle East. Together, we will stay committed to meeting the market's demand for high quality luxurious SUVs and providing the Lincoln Way customer experience.", Malkawi added.
January and March 2021 were the star months in this successful first quarter. Compared to 2020, January sales increased by 40% and March sales increased by 22%. The top performing vehicle in March was the Navigator with 28% of Lincoln's sales followed by the Corsair and Aviator at 22% & 18% respectively.
Corsair
The recently launched all-new Lincoln Corsair stands out in the small premium utility vehicle segment by offering a 2.0-litre turbocharged engine more powerful than several competitors, plus a wealth of amenities typically found only in larger utilities. Boasting Auto Start-Stop technology, the engine produces 250hp and 380 Nm of torque and is mated to a new eight speed automatic transmission, complementing a whisper-quiet, comfortable ride and sophisticated interior.

Nautilus
21MY Nautilus sees an all new Lincoln signature interior. First Lincoln to feature all-new Sync 4 with a 13.2" color LCD touchscreen, bundling popular driver-assist features previously available only as separate options – Lincoln's midsize luxury SUV showcases a harmonious aesthetic along with aerodynamic efficiency. With a choice of engines in a 335 hp 2.7-litre turbocharged V6, and standard 250 hp 2.0-litre four-cylinder turbo, Nautilus brings smooth power and performance to the luxury SUV sector.
Aviator
Lincoln's newest three-row, premium large utility vehicle – launched with the all-new Presidential theme, Flight, elevates the brand's design vision while delivering on tenets of beauty, gliding, human and a crafted sanctuary. The standard twin-turbocharged 3.0-litre V6 engine, paired with a 10-speed SelectShift® automatic transmission, delivers an impressive 400 horsepower and 563 Nm of torque for effortless acceleration.
Navigator
The flagship Navigator full-size SUV combines modern luxury with advanced technology, elevating family travel to first class. Quiet luxury is both a look and a feel, and Lincoln Navigator embodies both. The sleek twin-turbocharged 3.5-litre V6 engine delivers a truly impressive 450 hp and 691 Nm of torque, while sleek styling and a spacious interior are all designed to make each trip effortless.