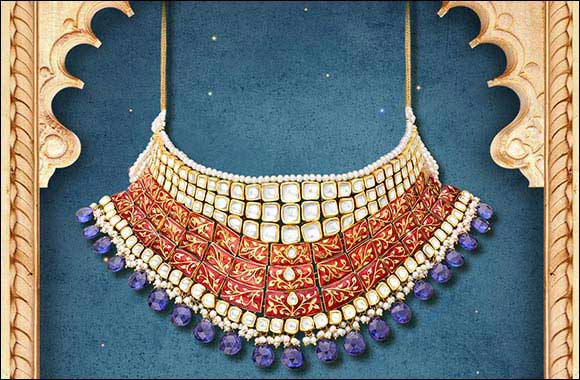 TANISHQ'S HEIRLOOM JEWELLERY COLLECTIONS CELEBRATE THE VERSATILITY OF GOLD
Dubai, United Arab Emirates: With gold buying high on the agenda, Tanishq, India's most trusted jewellery brand, has enhanced its offering in the UAE to ensure that the discerning UAE customer remains on trend.
From an unmatched collection of 18K and 22K gold and diamonds, solitaires, kundan polki and coloured stones to the launch of the regional version of Tanishq Promises that have set the standards and best practices in the Indian jewellery industry since their inception, the Tanishq Dubai store offers the safest and most reliable jewellery shopping experience.
At the Tanishq store in Meena Bazaar Dubai, which bears the hallmark of Titan and the assurance of the TATA group, in addition to 100%* exchange value on gold this season, customers can also upgrade their old gold jewellery with Tanishq's latest jewellery collections.
Tanishq guarantees purity & transparency in exchange value, thanks to the in-house state–of–the–art Karatmeter, which is most accurate way of measuring the purity of gold. A spectroscopic device that uses X-ray to provide an accurate and non-destructive method of testing the purity of gold, the Karatmeter can be used to test the Karatage of your jewellery, at no cost.
Elaborating on the current gold trends Vandana Bhalla, Marketing Head – International Business Division, Titan Company Ltd said, "The trends might be shifting towards light-weight jewellery for gifting and daily wear, but gold never goes out of style. From mixing and matching colours in metal, to jewellery inspired by the palaces and the royalty who lived in them, not to mention the multi-layered jewellery trend combining chokers and long-length necklaces, the new gold collections at Tanishq are designed to celebrate gold through Tanishq's differentiated designs and exquisite craftsmanship."
1. 'Mix and Match' colours in metals - Add a pop of colour to enhance any look and match the tone of your outfits with this stunning necklace. Fresh colour combinations of Gold with bright colours of Green, Red, blue and multi-colour are definitely the go-to colours this season
AED 34, 351
2. Go traditional yet chic - Rewind to the era of Maharanis (queens) and feel like royalty with this oversized gold set. Intricate stonework elevates the grandeur of this gold necklace. The enthralling necklace is sure to make a statement and is bound to capture hearts.
AED 42, 089
3. Jewellery meets architecture and landscape- Architecture-inspired jewellery is a huge trend this year. Motifs from the royal palaces of India form the inspiration of this neckwear.
AED 47, 827