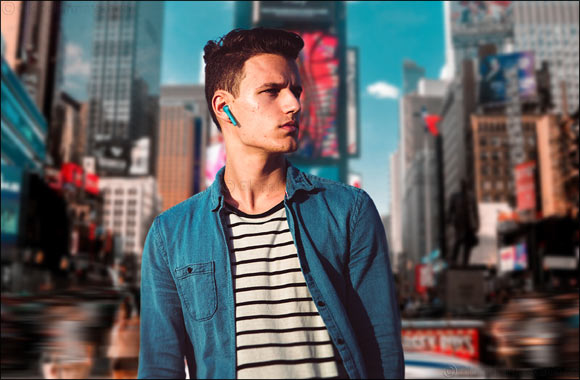 Intelligent features offer premium listening experience



Dubai, United Arab Emirates, June 21, 2020: Today, as the world celebrates World Music Day a little differently this year, global technology brand HONOR is helping fans in the UAE enjoy their favorite playlist at home with the latest innovations in earbud technology.
As the newest addition to the HONOR's audio product line, the HONOR Magic Earbuds are truly wireless earbuds that offer best-in-class active noise cancelling technology and extraordinary sound quality in a comfortable, easy-to-use design. Dedicated to providing a distraction-free listening environment, the HONOR Magic Earbuds are the ultimate multi-purpose earbuds for today's young music lover.

Hybrid Active Noise Cancelling Technology

Regardless of how noisy the surrounding environment is, music lovers can isolate in an audio paradise. With class-leading active noise canceling technology, the Magic Earbuds come with a hybrid feedforward-feedback ANC technology that is capable of negating background noise up to 32 dB1. The hybrid ANC solution utilizes two microphones – a feedforward mic which captures and blocks out ambient noise and a feedback mic which further cancels undesirable sound.

Superb Sound Quality to Get Yourself Immersed

As a music lover, nothing is more important than hearing a favorite track at their absolute finest. The Magic Earbuds deliver pure, dynamic sound quality. The Magic Earbuds are equipped with a high-performance and powerful 10mm large-sized driver unit, promising bass heads audio pleasure with rich, robust bass, and bright, crisp trebles.

Ergonomic In-Ear Design For An Unparalleled Snug Fit

In order to have an enjoyable listening experience for an extended period, maximizing comfort and in-ear stability is a must. Created with that ethos in mind, the Magic Earbuds feature an ergonomic trapezoidal design with three sizes of ear tips for a customizable fit. The earbuds will snugly and securely stay in place, without ears feeling achy or fatigued, even after a long while.

What's better is that the in-ear design enables passive noise cancellation. With a tight seal, the earbuds will further physically block out undesirable environmental noise for a more focused listening experience.

Worry-free Battery Life

Get lost in a playlist all day long without having to worry about re-charging earbuds. Equipped with low consumption Bluetooth technology, the Magic Earbuds will work all day long. The long-lasting battery life offers 3.5 hours of continuous music playback on a single charge, with the charging case carrying up to a total of around 14.5 hours when Active Noise Cancellation is disabled. With Active Noise Cancellation turned on, the battery life can still support up to around 3 hours of continuous music playback, and up to around 12 hours overall with the charging case.

Available in two colors, Pearl White and Robin Egg Blue, the Magic Earbuds features a minimalist and modern design that suit almost every style. Priced at 399 AED, the earbuds are a worthy investment in premium listening experiences.