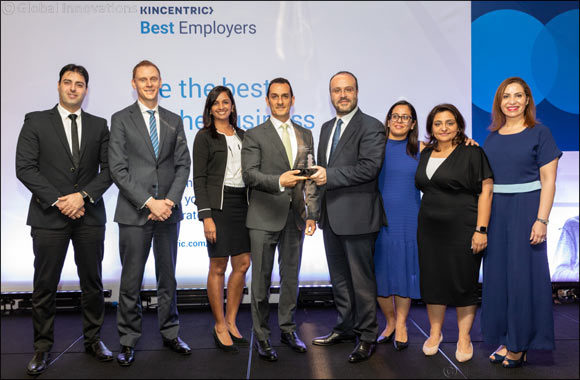 17 November 2019: DHL Express, the world's leading international express service provider, has won the Kincentric Best Employers Award, a leading employer benchmarking program that recognizes extraordinary employers who strive to spark change, inspire their people and accelerate business success.
DHL has won in the MENA Regional 'Best Employer' category for the fifth year in a row for its excellent workplace culture, focus on development programs like Certified International Specialist and outstanding employee engagement driven by leaders who connect employees with passion and strong values. The company has always strived to be an employer of choice and its 100,000+ employees are at the heart of its business and the most important driver of the organization's global success. In addition to the Regional recognition, DHL Express has won the Kincentric Best Employers Award in 10 countries across the MENA region.

Nour Suliman, CEO, DHL Express MENA, said: "This is an achievement that we are especially proud of; being recognized as a Best Employer says a great deal about our people, and how they feel towards the company and the brand. It is an honourable recognition that proves we are on the right track to being an employer of choice to our people, and an aspiration to others. It is a moment of pride and absolute satisfaction to know that our hard work is resonating with our employees, and that we are providing them with the environment that keeps them happy to come to work every day."

Henry Fares, VP HR, DHL Express MENA, added: "It is a great privilege to win the Kincentric Best Employers Award for the fifth year running. It showcases our continued commitment to carve out a distinct culture within our business so that our employees can thrive and feel a sense of purpose and belonging. We are delighted that the Kincentric Best Employers Award has recognized that these values are deeply embedded in our DNA."

DHL is one of the most global companies in the world with presence in over 220 countries with a team that is committed to delivering an insanely customer centric service and the values of connecting people and improving lives.