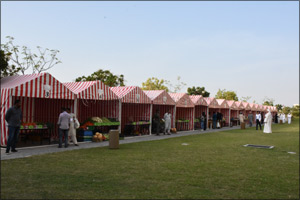 • Over 20 farmers to showcase and sell locally grown, quality products
• The Farmers Market will be hosted in the garden area of the mall every weekend until 04th April 2020
• The mall will also host Marhaba Market – a special market for handy-crafts
Abu Dhabi - November 12, 2019: Deerfields Mall, the popular shopping and lifestyle destination of Abu Dhabi in collaboration with Abu Dhabi City Municipality and Abu Dhabi Agriculture and Food Safety Authority is back with its latest edition of 'Farmers Market'. Curated to encourage local farmers, this community initiative will offer Abu Dhabi residents a chance to savour unique and fresh produce every weekend until 4th April 2020.
Local farmers will descend upon this market with their baskets bursting with wonderful, freshly sourced produce at the lowest possible prices. Scenically organized across 20 tents, the market will feature about 20 local farmers from Abu Dhabi and Al Ain.
Along with the Farmers Market, mall visitors can also spectate the Marhaba Market, a group of kiosks where small local businesses can sell non-F&B and locally made products and handicrafts. Families can enjoy a fun lineup of mall activations with their children, watching movies, coloring, reading, live music, carnival-themed entertainment and activities for the kids along with some of the unique retail offerings at Deerfields Mall.
The Farmers Market at Deerfields Mall will run every weekend (Fridays & Saturdays) from 4pm onwards, until 04 April 2020.