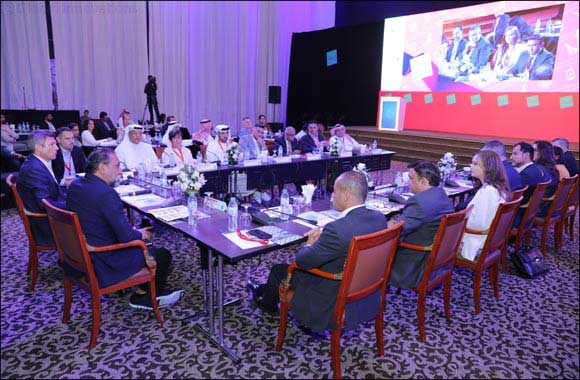 Dubai 19th October 2019: The Eight edition of the Middle East Retail Forum 2019 took place on 14th & 15th of October at Le Méridien Hotel & Conference Centre, Garhoud, Dubai UAE. The conference brought together the Middle East's most powerful retail influencers and leaders to focus on the fundamentals driving profitable innovation in Retail. Over 80 speakers and 300 delegates were present at MRF this year.
'RetailNEXT' was the theme at MRF and it focused on - The new wave of People, Products and Processes. The two-day conference was followed by the prestigious RetailME Awards ceremony where the who's who of the retail industry were present.
Unlocking the KSA potential:
The KSA focused sessions brought together experts from the Kingdom discussing on the 34million plus population, the potential it has to offer for retail leisure and entertainment. As the retail industry in KSA is forecasted to reach over $119 billion by 2023* (recent study conducted by Euromonitor).
CEO Conclave: The Retail Business Owners & CEOs Conclave was, moderated by Tom Urquhart, the well-known TV Presenter on Dubai One. The speakers present were; Ahmed Ragab, Group CEO & Executive Board Member, BRG Holding, Ashish Shukla, CEO, Cinépolis Gulf, Elena Weber, Founder & Managing Director, ICONS Coffee Couture, Girard Moussa, Director of CX, SAP, Hesham Almekkawi, CEO, YYT Food Corporation, Kunal Kapoor, Founder, The Luxury Closet, Leena Khalil, Co-founder & Partner, Mumzworld, Mohammad IB Alawi, Chairman, Sahat Property Management Co, Maha Morley-Kirk, CEO, Pinky Goat, Mark Tesseyman, CEO, LIWA Trading Enterprises, Naim Maadad, Chief Executive, Gates Hospitality, Ramesh Cidambi, COO, Dubai Duty Free, Raza Beig, CEO, Splash and Director, Landmark Group, Shames Al Hashemi, Director – Member of Board, Dual Investments, Stevi Lowmass, Founder & CEO, The Camel Soap Factory and Zaid Alqufaidi, Managing Director, ENOC Retail.
Amitabh Taneja, Chairman and Managing Director of the Images Group, revealed, "The Tech and Marketing teams of Retailers today could end up collecting a lot of data through various sources, trying to understand trends, which consume a lot of energy, time and money, and sometimes the data collected doesn't always lead anywhere, at RetailNEXT, we discuss the need of data that is more accurate which you can actually implement."
"Our Partners who are leaders in their respective industries have understood the need of the hour and have come together on this platform to help the retail Industry find solutions. We thank all our partners, Interstore│Schweitzer, Zoom, Adapty, Dalma Mall, Xpandretail, SAP, RedSeer Consulting, LPFLEX, Zebra Technologies and Idea Spice Design for their support. In addition, we thank all the speakers, panelists and delegates, who have taken time out of their busy schedules to focus on key areas for the retail industry" he added.
At the MRF arena this year, we also had; Khadija Al Bastaki Executive Director, Dubai Design District, Hatahal Saad Alutalbi CEO Alandalus Property CO., Mohamed Galal CEO Dhar Al Osool, Marwan Jassim Al Sarkal Executive Chairman Shurooq and Shant Oknayan Group Director Mena Facebook.
Sajith Ansar, CEO and founder of Idea Spice, said, "We are proud to be associated with RetailME and to be involved with their efforts to be catalysts for the retail industry in the Middle East. Over the last 17 years our firm idea spice has championed the cause for local firms competing with MNCs through their branding and marketing. We have created over 1300 brands and helped them grow."
"We are delighted to be involved as the branding partners for the Middle East retail forum and awards and cement the synergies with RetailME for the efforts to grow the regions retail industry. We are excited to learn from the speakers at the event."
'Our 360⁰-approach with design and build from a single source, coupled with high speed, is also enthusiastically received in the Middle East. Through global projects, we have the pulse of the latest trends and translate them into regional projects, 'says Bernhard Heiden, Interstore│Schweitzer's Chief Strategy Officer.
Tech Talks:
In the Tech Talks session at MRF had the following Tech experts addressing the topic, "Reinventing retail in the 'blended consumption' era," Amit Dhamani, Managing Director & CEO, Dhamani Jewels Group, Amit Yadav, Head of Marketing, 2XL Furniture & Home Décor, Charbel Lahoud, Head of Scouting, Chalhoub Group, Heer Lalwani, Marketing Manager, Al Ghurair Retail, Manoj Ganapathy, Division Manager – Visitors Management & Robotics Division, Jacky's Business Solutions, Megha Kapoor, Mobile CRM & Head of Performance Marketing, AYM Commerce, Milat Sayra Berirmen, Digital Innovation Director, Reem Mall, Rajiv Prasad, Chief Innovation Officer, Xpandretail, Sarah Jones, Founder & CEO, Sprii.com, Xavier Anglada, Managing Director – Accenture Digital Lead, and Vijay Talreja, Co-founder and Director, Adapty .
Solo presentations:
Other topics covered at MRF included; 'Consumer feedback at the speed of thought' by Shivjeet Kullar, CEO, NFX Digital and 'The 'people' factor in retail' by Florencio Padilla, Head of People Experience, Chalhoub Group.
Industry Reports:
ATKearney, Interstore│Schweitzer and RedSeer consulting shared trends, Industry Reports, updates and insights at the MRF.

Start-up Conclave:
The start-up conclave brought together truly passionate entrepreneurs, to discuss their experiences, pain points and successes.