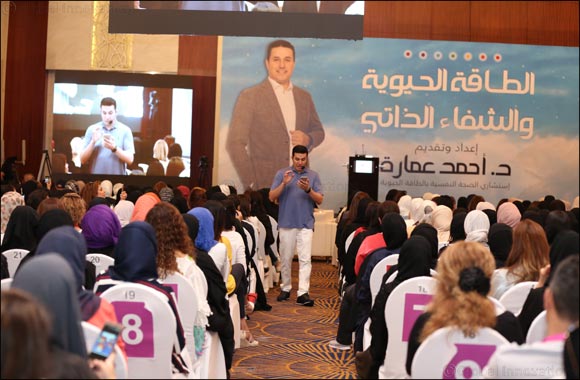 Dubai, UAE, April 16, 2019: Globally renowned in his field Dr Ahmed Emara will bring Inner Healing and Bioenergy training workshops to Dubai from 18th -21st April 2019. Having completed over 20 similar workshops worldwide for Arab nationalities and famous for his lifelong study of the mind and dedication to finding a more universal, all-encompassing way for people to achieve true happiness. The founder of Emara Foundation- Egypt, Al Naeem Consultation Center - United Arab Emirates and Emara Academy – USA is also known for his guest slots on prestigious television shows, including MBC as well as his avid following and thousands of views via his YouTube Channel and other social platforms.
Awarded a Ph.D. in Psychology and now with over 18 years of experience in psychological counselling, mental health, and industrial psychology Dr Ahmed Emara will teach modern techniques of bioenergy therapy, an approach focusing on the mind, body, and the energy flowing between them, to connect directly to audiences. Positively impacting the lives of attendees to reach a new state of abundance.
Already confirming over 24 different nationalities to be participating in the upcoming course, uniquely merging psychology studies with his wide range of interests including religion, spiritual traditions and cultures. Teaching techniques on how energy can expand the power of your goal until it becomes large enough to manifest in reality, Dr Emara has already used a mix of cognitive psychology and bioenergy practices to professionally train and inspire over 300,000 people including CEO's, Government Officials, Armed Forces, Political Leaders.
Dr Ahmed Emara comments "This course is the conclusion of many life experiences and extensive years of research into the study of the mind, throughout my career. Coming from a family of psychologists and scholars, since an early age it has been a life mission to find an all-encompassing method for people to reach a state of true happiness. After over almost two decades I found through merging traditional psychology with bioenergy science and mastering methods of utilising the power of energy, real transformations could be achieved and individuals' everyday lives are noticeably enhanced."
Dr Emara adds "Did you know, that scientifically when you have an intention for something it creates a force field of energy, energy cannot be generated from nothing, it does not dissipate into nothing, but transforms from one form to another. Today many of us seek matter, money or material things for the purpose of acquiring energy, or happiness. This only hinders our journey in life and through this course we give techniques on how to seek energy directly to manifest happiness, joy and bliss - after that the matter or goals you seek will manifest in your life with ease"
Focusing on understanding of how to utilise bioenergy to enhance your everyday life attendees can learn how to recognise "Chakras" the energetic wheels centered in your body. How to expediate your bodies' response to healing from illnesses and maintain a state of health and wellbeing. As well as active training in meditation and how to release negative energy accumulated over the years in the body. Achieving inner healing to become aware of repressed emotions, pain, cognitive concepts and fears that we have long been suppressing in our sub-consciousness. How to protect yourself from negative energy that surrounds you in society and during your interaction with others. As well as how to achieve inner peace and live life at its best, tapping into infinite source of energy to recharge the self and body with energy of joy.
The four-day course is not only aimed at those who seek deeper understanding of bioenergy and knowledge of its applications in life but those having difficulty reaching their goals despite their knowledge of how to do so. Those who seek further development in their career and their life calling, even individuals who suffer physical illnesses that are not diagnosed by doctors or anyone who wishes to work towards ridding themselves of persistent health alignments including; constant headaches, depression, lack of sleep, insomnia, anxiety and overload of negative thoughts. As well as general fatigue, exhaustion, and lethargy.