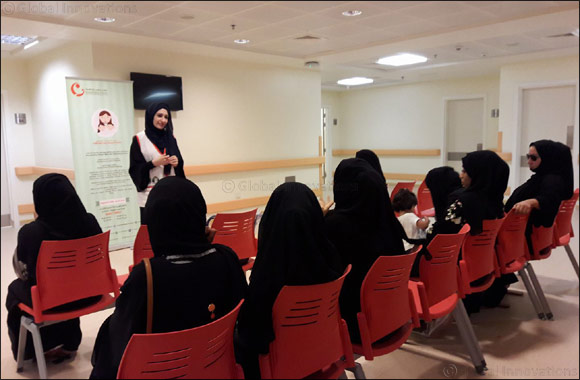 Sharjah – 14 July 2018 : The Breastfeeding Friends Society, one of the health promotion associations at the Supreme Council for Family Affairs in Sharjah, continues to organize the monthly "Forum for mothers", in cooperation with a variety of local and private hospitals in Sharjah. The association aims to use these forums to educate mothers on the importance of breastfeeding, and to exchange experiences and tips on coping with breastfeeding and motherhood.
A delegation from the society organizes 5 to 6 monthly visits to mothers in various maternity wards, where the breastfeeding guides and the volunteers work to help pregnant women and new mothers on their breastfeeding journey, and to educate them on the importance of breastfeeding. The delegation, which works to help around 150-200 mothers of all nationalities, also arms mothers with breastfeeding guides and gifts that benefits both mother and child.
Eng. Khawla Al Noman, Head of Breastfeeding Friends Society, stated that these forums, which have been organized since 2009, are one of the society's most important initiatives. She stated that the forum's importance derives from its role in realizing the society's goals of preserving the health of infants and encouraging mothers to breastfeed their children so that they grow up healthy and happy.
Al Noman thanked all the participating hospitals that have cooperated with the society to implement this initiative, and she commended the volunteers for their efforts in making this initiative a success. She remarked that these forums represent an essential pillar that helps mothers to understand the basics of breastfeeding and its health benefits for infants, in addition to shedding light on the methods of dealing with challenges that breastfeeding mothers may face.
Through these forums, the society provides mothers with various opportunities to gain information on a variety of topics such as the correct conditions for breastfeeding, the importance of early breastfeeding right after birth, in addition to informing them of the global initiatives that are organized to support natural breastfeeding.
The Breastfeeding Friends Society was founded in 2004 under the patronage of Her Highness Sheikha Jawaher Bint Mohammed Al Qasimi, Wife of His Highness the Ruler of Sharjah and Chairperson of the Supreme Council for Family Affairs. The society aims at improving the physical and psychological health of mothers and children by promoting breastfeeding, which helps to maintain the health of the community in the Emirate.