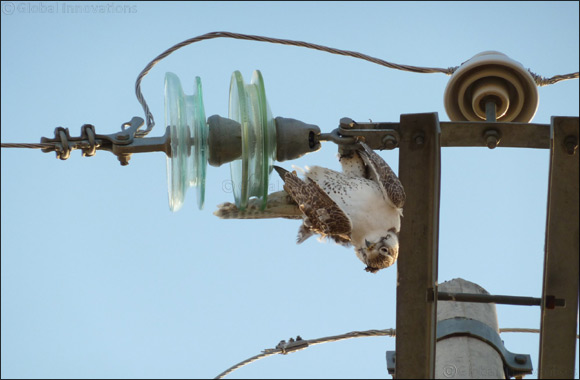 Sheikh Mohammed bin Zayed Raptor Conservation Foundation to be catalyst for international action
Abu Dhabi, 26 April 2018: His Highness Sheikh Mohammed bin Zayed Al Nahyan, Crown Prince of Abu Dhabi and Deputy Supreme Commander of the UAE Armed has launched a new Foundation for the conservation of raptors with a $20 million endowment and has committed initial seed funding of $1 million to tackle the major issue of electrocution of falcons. The Sheikh Mohammed Bin Zayed Raptor Conservation Foundation, will fund and execute raptor conservation projects in collaboration with stakeholders. The announcement was made by His Excellency Mohamed Al Bowardi, Managing Director, Environment Agency - Abu Dhabi when addressing a summit of global conservationists discussing the world's migratory birds currently being held on Yas Island.
Electrocution is a major cause of mortality of raptors and other bird species. As the network of power distribution lines grows across the world, the problem is increasing. Technical solutions are available that can remedy the problem, such as hardware designs for new lines and simple remedial work on existing lines. The International Association of Falconry stated that an estimated 4,000 endangered Saker Falcons are killed each year in Central Asia alone due to poorly designed power poles. A study, funded by the Environmental Agency of Abu Dhabi conducted with the Eastern Energy System power company in Mongolia, demonstrated the electrocution of 55 Saker falcons per 10 kilometres of power-line per year on a test section. The study also reported that electrocution rates could be significantly reduced at a cost of less than €18 per power pole.
His Excellency added that the initial project would be launched at an international conference in the first quarter of 2019 where all concerned organisations - legislators, scientists, researchers, manufacturers, power companies, project funders and other related entities - will be invited to attend and participate. At the conference, all these entities will be asked to put this initiative into action, to complete funding for it and to identify monitoring and follow-up mechanisms.
Commenting on the initiative His Excellency said, "Electrocution of raptors is a conservation priority that requires an international response. With the growth of power distribution lines, the problem will only get worse. This is more than just an issue of conservation of birds, it requires governments, regulators and private industry to have a coordinated response as birds are vital in the species chain and an indicator of the health of our planet. To make this a reality His Highness has launched the Sheikh Mohammed Bin Zayed Raptor Conservation Foundation with an endowment and we have committed an initial $1m of seed funding to electrocution projects. We are extremely grateful for His Highness' support in this critical mission."
Abu Dhabi has a well-established programme to conserve raptors, such as the iconic Saker falcon. The Abu Dhabi Falcon Hospital was a first of its kind in the world, while thousands of falcons have been released into the wild under the Sheikh Zayed Falcon Release Program. His Excellency added, "Abu Dhabi has long been a leader in raptor conservation, and this initiative is further step along the journey to which are committed."