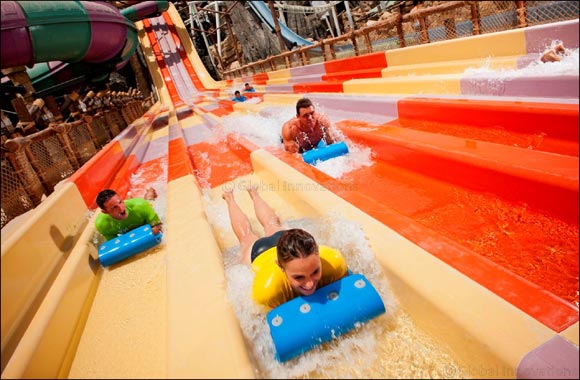 Yas Waterworld's CineSplash is an immersive attraction introducing a unique 5D water experience with water flooding into the attraction for the first time in the region
Abu Dhabi, 26 April 2018: Miral, the creator of Abu Dhabi's destinations, announced today that a unique CineSplash experience will open in June 2018 in Yas Waterworld, Abu Dhabi. This attraction is an addition to Yas Island's rich portfolio of theme parks and word-class attractions that brings unique, exciting and immersive experiences to the emirate's residents and visitors.
Visitors of CineSplash will enjoy a 10-12 minute 5D water adventure about the fascinating story of the'The Legend of the Lost Pearl.' As the story unfolds, the theatre will flood with water and will bring along rain, fountains, waterfalls and several other water effects. This experience will be the first-of-its-kind water experience in the region.
"Yas Waterworld's CineSplash attraction is a testament of Miral's commitment to bringing immersive and fun experiences to Yas Island. We are certain that this new attraction will be popular amongst visitors and add to the growing appeal of Yas Waterworld" said Mohamed Abdalla Al Zaabi, CEO of Miral.
This latest addition to Yas Waterworld complements Miral's rapidly expanding Yas Island tourism destination portfolio of themed parks.
"The continuous development and evolution of Yas Island's theme parks; be it Yas Waterworld Abu Dhabi or Ferrari World Abu Dhabi and the soon to open Warner Bros. World Abu Dhabi, enables us to be one of the top growing country's within the theme park industry. The destination provides and caters to everyone with its range of offerings in shopping, dining, sports, leisure and hospitality," added Al Zaabi.
The opening of CineSplash complements the 43 different rides, slides and attractions available at Yas Waterworld. This latest attraction at Yas Waterworld, the largest waterpark in the region and the UAE's first mega waterpark, is yet another step forward in achieving Miral's vision for Yas Island to become one of the top travel and tourism destinations in the world.