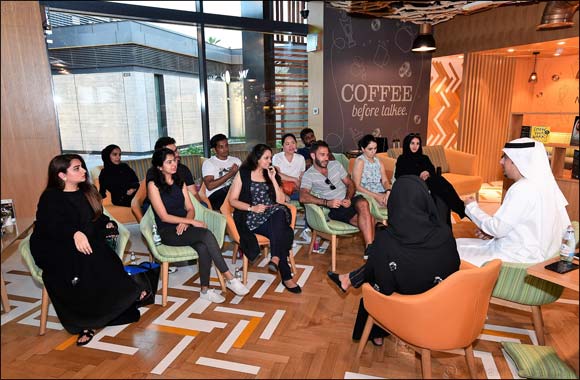 Dubai, United Arab Emirates, 22 April 2018: Meraas, a leading Dubai-based holding company, launched a series of complimentary photography workshops as part of its annual Urban Pixels photography competition, held in collaboration with the Dubai Culture & Arts Authority (Dubai Culture), the emirate's dedicated entity for culture, arts and heritage.
This year's edition of the acclaimed contest welcomed amateur shutterbugs to the free-to-attend photography upskilling sessions, with more set to take place on 28 April and 5 May. Trigger-happy photographers spanning all levels of ability can choose from a variety of workshops, photo walks and photo talks taking place across select locations at The Beach, La Mer, Al Seef, City Walk, Boxpark and The Outlet Village.
UAE-based photography experts, including Mohamed Al Balooshi, Roudha Al Sayegh, Ahmad Al-Khazraji, Majed AlKatheeri, Khaled Alkendi, Ayesha Abbasi, Ahmad Al Zarouni and Khalid Al Hammadi, are partnering with the competition this year to share their tips on enhancing photography skills with the participants.
Schedule of events:
| | | | | | |
| --- | --- | --- | --- | --- | --- |
| Activation | Location | Date | Time | Title | Presenter |
| Photography Workshops | Roxy Cinemas – City Walk | 28 April 2018 | 9am – 12 noon | Basics of Photography | Ahmad Al-Khazraji |
| | Roxy Cinemas – Boxpark | 28 April 2018 | 9am – 12 noon | The Secrets of Wildlife Photography | Majed AlKatheeri |
| | Roxy Cinemas – The Beach | 28 April 2018 | 9am – 12 noon | Landscape Photography | Khaled Alkendi |
| | Roxy Cinemas – City Walk | 5 May 2018 | 9am – 12 noon | Women in Landscape Photography | Ayesha Abbasi |
| Photo Talks | HOLA – La Mer | 28 April 2018 | 5-7pm | People of Determination in Photography | Mohamed Al Balooshi |
| | Barilla – The Outlet Village | 5 May 2018 | 5-7pm | Female Photographers | Roudha Al Sayegh |
| Photo Walks | City Walk | 28 April 2018 | 5-7pm | Architectural Photo Walk | Khalid Al Hammadi |
| La Marquise – Al Seef | 5 May 2018 | 7-9am | Light and Shadow | Ahmad Al-Khazraji | |
| The Green Planet – City Walk | 5 May 2018 | 10am – 12 noon | Wild Walk | Ahmad Al Zarouni | |