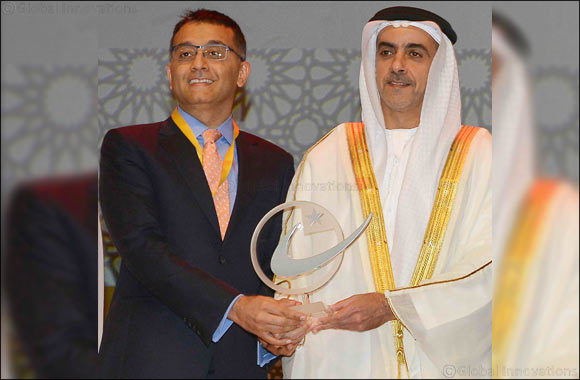 Dubai, UAE, December 26, 2016: TASC Outsourcing's quality and excellence in recruitment and talent management have been recognised by the prestigious Sheikh Khalifa Excellence Awards (SKEA) 2016. TASC is the first staffing company in the region to win this award. It has been honoured with the award in the Silver Category for excellence in the Small and Medium Enterprises Sector.
The award was presented by Lieutenant General His Highness Saif bin Zayed Al Nahyan, Deputy Prime Minister and Minister of Interior, to Mr. Mahesh Shahdadpuri, CEO of TASC Outsourcing on Tuesday at a ceremony held at Abu Dhabi's Emirates Palace Hotel.
TASC Outsourcing is a leading talent solutions firm in the UAE offering specialized services in contract staffing, and talent management services & solutions in the region.
The Sheikh Khalifa Excellence Award by the Abu Dhabi Chamber of Commerce & Industry (ADCCI), held under the patronage of His Highness Mohammed bin Zayed bin Sultan Al-Nahyan, the Crown Prince of Abu Dhabi and Deputy Supreme Commander of the UAE Armed Forces, is a prominent business excellence program aimed at enhancing the competitiveness of the business sector in the UAE. The SKEA program, the first in Abu Dhabi to be fully aligned with the international best practice and adopting the EFQM Excellence model, is the Primary National Distributor and Representative of the European Foundation for Quality Management (EFQM).
Upon receiving the award, Mr. Mahesh Shahdadpuri, CEO of TASC Outsourcing said: "We are honoured to receive the Sheikh Khalifa Excellence Award in recognition of our quality in service in the people outsourcing sector. This award, being one of the most prestigious ones in the region, stands testimony to the quality we provide in all aspects of our business and the emphasis we lay on CSR and innovation. Hiring the right talent and ensuring their welfare in tandem with the company's objectives requires a deep understanding of the human behavior and a keen attention to detail. Our team of recruiters and resource management experts are our biggest asset in ensuring our service excellence and have helped establish us as the industry leader in the UAE."
TASC follows rigorous quality practices built on policies and principals that define the framework of its operations, from the customer complaint management system to hands-on corporate governance. Building the policies has helped drive the organization's vision and values amongst employees and aligned the organization to a common goal and direction.
TASC Outsourcing is today the partner of choice to more than 200 companies in the region with a resource base of more than 3,500 professionals, from over 70 countries. TASC takes an innovative and proactive approach that is driven by market insights. Leveraging its expertise in talent management, TASC also supports clients by managing their day to day transactional activity related to attendance, payroll, sales, MIS monitoring, and more.