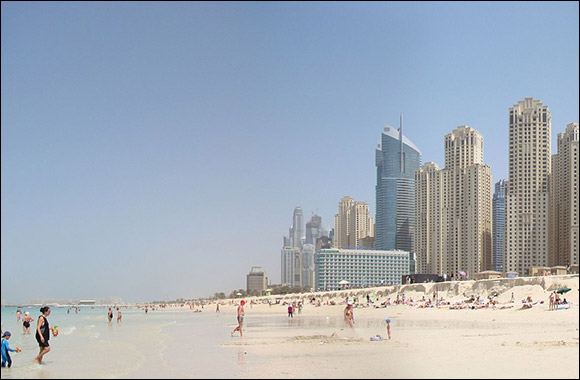 Dubai is quickly becoming one of the most comfortable cities in the world compared to other megapolises. It has all of the city's attractions plus a wide range of green parks and white beaches. Although Dubai is considered a rather hot location, spring is undoubtedly the best time to enjoy its warm sun and sandy beaches. With the temperature hovering around 25-30 °C, springtime provides the perfect weather for beachgoers.
Dubai boasts a variety of stunning beaches, each with its unique appeal. They are immaculately clean and well-maintained, offering visitors a delightful and refreshing escape from city life. Whether you're looking for a family-friendly beach or a secluded spot for quiet relaxation, Dubai has something for everyone.
1. JBR Open Beach
JBR Open Beach is a popular Dubai area that offers many benefits to tourists and residents alike. Located on the stunning palm-shaped island, which is often referred to as the eighth wonder of the world, JBR Open Beach provides easy access to some of Dubai's best tourist attractions.
The area also offers access to supermarkets, mosques, and even Michelin-starred restaurants, ensuring that visitors have all their basic needs taken care of. Sports enthusiasts will appreciate the outdoor gyms, swimming pools, volleyball courts, and yoga classes, while those looking for water-based activities can enjoy surfing and sailing.
JBR Open Beach is open throughout the year and is free of charge, excluding the activities. The JBR opening hours are 7:30 am - 10:00 pm, from Sunday to Wednesday. On Thursdays and Fridays, you can visit the beach from 7:30 am to 11:00 pm.
Visitors can reach the beach via public transport or can opt to rent one of the luxurious apartments in the area through Penthouse.ae — a leading provider of luxury real estate in Dubai.
2. Marina Beach
Marina Beach in Dubai is a sought-after destination in the luxurious residential area of Dubai Marina. It's situated along The Walk near The Beach mall. It features soft, white sand, numerous amenities like restaurants and shops, and even a golf square and numerous spa centers.
One of the main draws of Marina Beach is its proximity to Dubai's newest artificial island, Bluewaters. Families with children will find joy in the zoo and the world's tallest and largest observation wheel.
Marina Beach is open throughout the year, and there is no entry price. Visitors can reach the beach via public transport or private car; parking is available nearby.
3. La Mer Beach
La Mer is a bustling beach district located in Jumeirah, Dubai, and is one of the most important beach areas in the city. It boasts many leisure activities: banana boat rides, surfing, a water park, and a playground for kids. The beach also features a shopping mall, cinema, and numerous restaurants serving delicious worldwide cuisine, which makes it a perfect destination for locals and tourists.
La Mer is open throughout the year from 10 am to 10 pm from Monday to Thursday. On Friday and Saturday, the timing is extended to midnight. Visitors can access the area for free. It is easily accessible by public transport or private car, and ample parking facilities are available nearby.
4. Kite Beach
Kite Beach is one of the top destinations for beachgoers in Dubai. The beach has several benefits — it's a perfect destination for water sports enthusiasts who love to surf, kitesurf, and paddle board. A volleyball court is also available on the site, making this place a perfect destination for anyone looking to have an active day at the beach.
Many people also love to run at Kite Beach due to its long stretch of sand that offers a great opportunity for a scenic workout. One of the most popular spots at the beach is the burger bar, renowned for its delicious burgers and a favorite among locals and tourists alike.
Kite Beach is open all day throughout the year; no entrance fee is needed to access it.
5. Al Mamzar Beach Park
Al Mamzar Beach Park is one of the best family-friendly beaches in Dubai. This place features a spacious picnic area where families can relax and enjoy a meal together. The beach also has a playground for kids, which makes it a great destination for families with young children.
Visitors can also enjoy two large swimming pools at the beach park, perfect for a refreshing dip during a hot day. Additionally, Al Mamzar Beach Park offers dedicated ladies' days, providing a comfortable and private environment for women. This beach has an entrance fee of around AED 5 (which is close to USD 1.4).
6. White Beach
White Beach is a stunning private beach located on the renowned artificial island of Palm Jumeirah. Its perfectly white sands and clear waters create breathtaking sea views. This makes it an ideal destination for couples or groups of friends looking for a romantic or peaceful getaway.
White Beach also features a beautiful swimming pool and a world-class restaurant that serves delicious food. Both are open at night, offering an unparalleled experience for visitors looking to enjoy ambiance under the stars.
The beach opens every day from 10 to 8 pm. The entrance fee to White Beach costs around AED 200-300 (55-80 USD), of which AED 100 can be redeemed for food and drinks.
7. Jumeirah Beach Park
Jumeirah Beach Park is a unique beach in Dubai, also called Nesnass Beach. Some also call it a beach park due to its beautiful green landscape and well-maintained gardens. This place is perfect for families and groups of friends who want to relax and have fun. The beach park offers a variety of amenities, such as barbeque zones, basketball, volleyball, handball courts, and more.
Women and children can enjoy special days at the beach park, where they can use the beach without any restrictions. The beach park is open year-round from 7:30 am to 10 pm. The entry fee is AED 5.
8. Sunset Beach
Sunset Beach, also known as Umm Suqeim, is a free public beach in Dubai that is perfect for relaxation and water sports. While it has minimal amenities, it is a great place for running, working, and reading as it is located near a public library. The beach is open during daylight hours and is free of charge. Visitors can enjoy the peace and breathtaking views of the beach every day.
9. Mercato Beach
Located just across the street from the bustling Mercato Mall, the Mercato Beach is perfect for those who want to combine a shopping trip with a little seaside relaxation. Lifeguards are constantly on duty to ensure visitors' safety.
However, it's worth noting that the lack of protection from the elements means that waves and undertows can be a hazard here. Swimmers should exercise caution, especially when conditions are rough. The beach is open 24/7, but it's important to remember that swimming in the sea after dark is prohibited by law in Dubai.
10. Black Palace Beach
Black Palace Beach, also known as Secret Beach and Al Sufouh Beach, is a secluded and unspoiled beach located between the iconic Burj Al Arab hotel and the Palm Jumeirah development. The beach has minimal amenities, but it's perfect for those seeking a serene and peaceful retreat from the city. Black Palace Beach is a popular spot for photography enthusiasts due to its picturesque views of the Dubai skyline and stunning sunsets.
The beach doesn't have specific opening hours as it's a public area, but it's advised to visit during daylight hours for safety reasons. Additionally, visitors should be aware that lifeguards do not supervise the beach, and swimming can be dangerous due to strong currents. As a public beach, Black Palace Beach is free for visitors to access.
In Conclusion
Dubai has some of the most gorgeous beaches on the planet. We hope you've found one to your liking among those described in our article.
While enjoying the beaches of Dubai, it's important to keep in mind certain rules and etiquette. Although Dubai's beaches have no strict dress code, avoiding overly revealing swimwear and going topless is best, especially for women. Don't forget to bring a water bottle to stay hydrated, and remember that alcohol can only be consumed in bars and restaurants, not on the beach. By following these simple guidelines, visitors can enjoy a safe and enjoyable beach experience in Dubai.