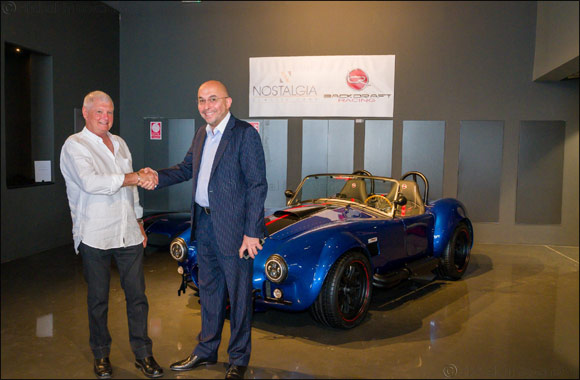 Dubai, United Arab Emirates: December 21, 2019: Nostalgia Classic Cars today launched Backdraft Racing's exclusive RT3B Black Edition Backdraft Roadster. The first classic car showroom and warehouse of its kind in the UAE, Nostalgia Classic Cars is also pleased to announce that it has been appointed as the dealer principal for Backdraft Racing in Dubai and the Gulf region.
The newly released race car proven RT3B Black Edition Roadster combines 1960s design with modern day styling to provide the ultimate quality finishing and luxury, with advanced ergonomics and passenger comfort in a spacious interior.
Known for its renowned attention to detail, Backdraft Racing meticulously hand-builds each roadster with unsurpassed quality, design and performance to ensure that each custom roadster and authentic replica are the best available.
Founder of Nostalgia Classic Cars, Mazin Al Khatib said "Ever since I met with Tony Martin and ordered my first roadster, I was satisfied to the utmost degree with the experience itself from the beginning, during the building of the car, up until receiving the car. I've been driving this car since 2006 and the whole experience was amazing till date. It was not just a transaction experience, but grew into a friendship and now we are proud and excited to be converting it into a collaboration between these two esteemed companies."
In the first quarter of 2020 Backdraft Racing will be launching, again through Nostalgia Classic Cars, its one-make Backdraft Track Car Racing Series as part of an international Backdraft racing competition. This series will compete with German and Italian sports car manufacturers and will begin in South Africa, with a separate series planned for Sweden, the UK, and the UAE.