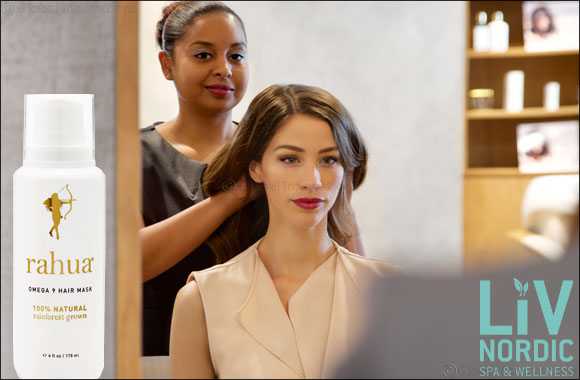 ** Celebrity favourite luxury hair care range now available at new spa location in Dubai **
Dubai, UAE, September 21, 2016: From the moment you step foot in the tranquil surrounds of LivNordic Spa in the iconic Cayan Building in Dubai, to the moment you leave, your hair will never be the same again with the addition of celebrity favourite Rahua to the treatment menu.
Discovered in the deepest part of the Amazonian Jungle, Rahua, (pronounced Ra-wa) is a superb conditioning nut oil that has been used by Amazonian tribal women for centuries. From shampoos to conditioners to hair elixir and deeply penetrating hair masks, Rahua's luxury collection enjoys a celebrity following the world over.
This serene spa actively pursues a sense of holistic wellbeing by drawing on the rich resources of Nordic Culture. LivNordic espouses a way of living that is natural, peaceful and good for you. It makes perfect sense then that some of LivNordic's professional hair care treatments are brought to you by Rahua.
LivNordic Spa is your home-away-from-home destination for Nordic Wellbeing. Enjoy facilities that include:
Reception
Nordic Café and Retail Area
Beauty and Grooming Salon
Changing Rooms
Wet Area including steam, sauna, hot tub, cold plunge pool and Silent Relaxation Lounge
Six single Nordic Treatment Rooms
Gym
Yoga and Fitness Studio
Outdoor Yoga Pavilion
Outdoor Pool
So, on your next visit to LivNordic Spa, be sure to try the following revitalizing and rejuvenating hair care treatments and products by Rahua. The Rahua hair treatment costs AED 250 including wash, treatment, blow dry & styling
With a cult following of A-list celebrities including Gwyneth Paltrow, Jennifer Lopez and Johnny Depp, Rahua, the luxurious Rahua collection features a range of products including shampoos, conditioners, hair elixir, hair mask, finishing cream, hair wax, hair spray, dry shampoo and a body range.
The Rahua range of professional hair care treatments are available at LivNordic Spa from September 2016. Visit www.rahua.com to discover more and keep up-to-date with the latest news at www.facebook.com/rahuamiddleeast.