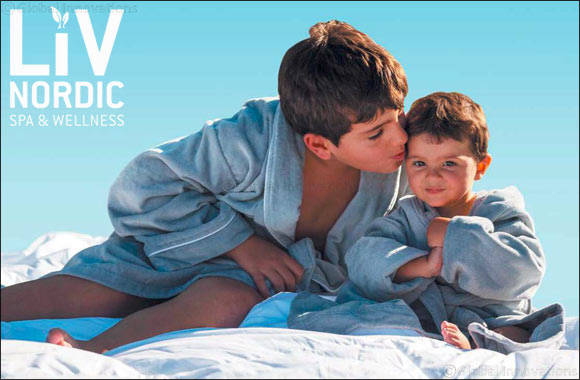 Dubai, UAE, September 3, 2016:
Welcome to LivNordic Spa & Wellness in Cayan Tower. Our sixth edition of our Newsletter is here to inspire you to a Nordic lifestyle and healthy living.
This month I would love to share more information about LivNordic's newly introduced children's charity initiative Light Lights.
The vision of our operator Raison'd Etre has always been to Light Lights for others, therefore we are delighted to introduce the Light Lights campaign as the first LivNordic spa to support The Northern Lights children's charity. Learn more about the Northern Lights children's charity in the article below.
Wishing you a wonderful month of September!
Carolina Moquist, Spa Director
LivNordic Treatment Offers
For September we would like to invite you to experience our Hydrafacials.
Book a Hydrafacial 60 or 90 min and receive a 30 min back, neck and shoulder massage for free.
Purchase a package of 10 Shampoo and Blow Dry sessions and receive 3 for free S-1000 AED / M-1200 AED / L-1400 AED
Available for ladies only
These offers cannot be combined with other discounted offers.
LivNordic Wellness
Did you know that our spa has a selection of different wellness and fitness practitioners?
Why not book a complimentary consultation with one of our practitioners to find out more about your fitness and wellness needs?
Pass by or call our spa reception for more information and September Wellness Schedule. A selection of private and group classes are available.
Contact: +971 04 551 6414 for more information.
LivNordic Spa & Wellness launches Light Lights
LivNordic Spa & Wellness Cayan Tower is the first LivNordic Spa to launch the brands Light Lights campaign, supporting children's charity.
LivNordic is a visionary spa concept, which intertwines traditional Nordic treatments with a modern touch. The belief that mindfulness and wellbeing are intrinsically linked is central to the LivNordic concept.
For every quarter, LicNordic Spas will focus on a selected treatment from the spa and for each booked Light Lights treatment, the spa will donate 10% of the revenue to a selected Charity. The altruistic mentality of the brand focuses personal meditation with a wider act of kindness.
LivNordic Spa & Wellness in Cayan Tower is the first LivNordic Spa to launch the charity campaign, starting 1st of August with the Northern Stillness Massage as the treatment package to be selected for this promotion.
A unique Nordic wellness experience lasting 120 minutes, including a Face and Scalp massage, a soothing body scrub and a mindful massage. It is cooling, calming and meditative. This treatment combined with an act of charitable giving captures the true LivNordic lifestyle, is guiding guests to their most connected, conscious and healthy selves.
Book a Northern Stillness 2 hours from 1st of August – 30th of September and 10% of the revenue will go to the Northern Light Children's charity. A charity supporting children with life limiting illnesses.
To learn more about Northern Lights Children's charity visit www.northernlightscharity.org.uk
Zumba at LivNordic Spa & Wellness
We are delighted to introduce Zumba as part of our wellness activities
Join us for a Zumba class full of fun movement and great music. On Wednesday the 21st of September ar 7pm we are inviting you to come and enjoy a complimentary class of Zumba hosted by Aydan Lindberg. Aydan is a certified Zumba instructor from Stockholm, Sweden now living in Dubai. Zumba is great for anyone who wants increased energy and loves to dance and shake.
The class will be conducted outside on the Cayan Tower terrace with the spectacular view over Dubai Marina.
Call 04 551 6414 to reserve your space. Booking are made on first comes, first serve basis.
Visit www.cayan-livnordic.com