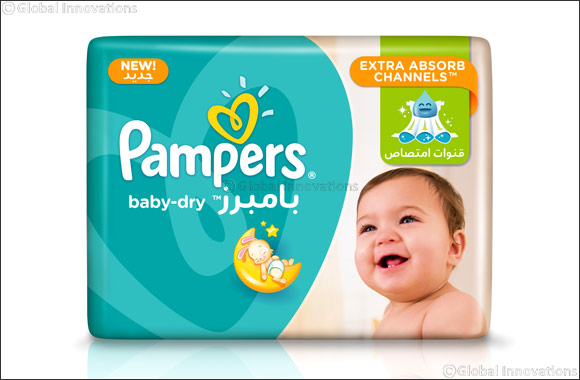 Extra Absorb Channels offer up to 12 hours of overnight dryness for mornings of 'cuddle attacks'.
Dubai, UAE, May 18,2017: Did you know that during the day, a baby will produce on average 150ml of urine per diaper, and at night they can pee on average 3-4- times per diaper? That's why overnight dryness is essential, and with babies spending around half of their time asleep1, their overnight diaper needs to work even harder to ensure that every baby stays dry and comfortable and their sleep is less disrupted.
With this in mind, Pampers has unveiled its new and improved Baby-Dry diapers which now include Extra Absorb Channels, designed for babies to be comfortable and drier, so they can enjoy good quality sleep and wake up happy giving you cuddle attacks in the morning.
The importance of comfortable sleep
As a parent, there is nothing more wonderful than waking up to a happy cuddly baby and you put lots of love and care into making sure your baby is comfortable for the best night's sleep. Their gurgles, grabs and giggles are full of delight, it's a sign that they had a great night's sleep, met with a storm of excitement the morning – we call them cuddle attacks!
In fact, better sleep has a positive2 impact on a baby's mood and temperament resulting in better interaction within their social environment and making them even cuddlier. Sleep in babies has also been linked with increased physical and cognitive development. However, more often than not babies may wake up wet and grumpy, which is why overnight dryness is essential.
Ready for Cuddle Attacks
New Pampers Baby-Dry has Extra Absorb Channels for up to 12 hours of overnight dryness designed to keep your baby dry for one full night of sleep.
"New Baby-Dry diapers with Extra Absorbing Channels are designed to help spread wetness evenly using the whole diaper and they now lock it away better for up to 12 hours of dryness. Whilst the diaper distributes the liquid throughout, it maintains its fit and structure as it gets fuller, meaning less sag for greater fit & comfort so babies can wake up as dry in the morning as the night before." Yaprak Gokbulut - Pampers Communications Manager
So we're inviting all parents to try new Pampers-Baby Dry, now nothing will stand in you and your baby's way for morning cuddle attacks, now that wake-ups are as dry as bedtimes.