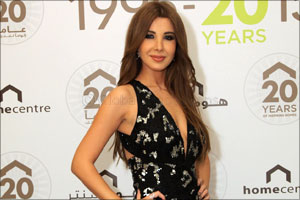 Dubai-UAE: 14 October, 2015 – Home Centre, the largest home retailer in the Middle East, celebrated its 20th anniversary milestone with a gala event headlined by popular Arab singer and superstar Nancy Ajram, who is also Home Centre's brand ambassador. Prominent media personalities, socialites and senior management from Landmark Group across the Middle East were present to commemorate the occasion.
Following a grand cake cutting ceremony led by Nancy Ajram in the presence of CEO of Home Centre, Médéric Payne, and Director of Landmark Group Aarti Jagtiani, guests were treated to an audio-visual spectacle with live entertainment, enjoyable acts and foot-tapping musical renditions that created a vibrant atmosphere at Madinat Arena, Dubai.
Nancy Ajram also offered a sneak peek of Home Centre's brand new television commercial, in which she plays an integral part. She also showcased Home Centre's latest annual catalogue that features some of her personal favourites from the brand's latest collections.
Speaking about her association with Home Centre, Nancy said: "I'm delighted to be part of the Home Centre family. Homes are an extension of one's personality through which they are able to express themselves and Home Centre very well gives you the kind of products that help you create that space. As someone who takes pride in my home, Home Centre is certainly a brand I can connect to. I look forward to our association in the months to come."
Commenting on the occasion, CEO of Home Centre, Médéric Payne said: "This is a significant milestone for us and we are glad that our guests enjoyed the celebrations. The evening with Nancy Ajram and our specially invited guests was a great way to kick off our expanded growth strategy for the brand."
He added: "Going forward, we are set to open over 50 new stores and refit more than 40 existing stores by 2020. We have launched our omni-channel presence and will introduce a host of new product offerings to meet customer needs and expectations. Additionally, we look forward to continue to strengthen bonds with our loyal customers through engaging activities that have been lined up featuring Nancy Ajram."
The event also received a positive response on social media with many attendees tweeting and uploading pictures on Instagram throughout the evening.