The city has a laid-back, easy going attitude and is described as a 'shangrila in the desert'. Around 2.1 million tourists visited last year and it is easy to see why. There aren't many places where you can experience desert safaris, sand skiing, sailing, cruises, camel rides and amazing shopping bargains while you stay in world-class hotels. What is more, we give your children a reason to smile ;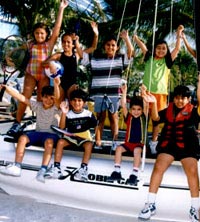 pic courtesy Jumeirah Beach Hotel

Parks
Even a long-time resident of Dubai cannot fail to marvel at these wonderful patches of landscaped greenery amidst the harsh desert. The little we can do to support this fragile fauna is to ensure that we follow the rules of the park scrupulously. Just so you wouldn't be disappointed, make sure it is not a 'women and children only' day!

Al Mamzar Beach Park
One of the best in Dubai, with barbecue sites, food kiosks and a safe swimming area. Children's play areas dot the park and you can hire a chalet for your family.
Park Timings - 08:00 - 22:00 hrs
Location - Hamriya
Entrance Fee - Dhs. 5/-per person or Dhs. 30/- per car.
Tel - (9714) 682527
At the Mushrif Park (off Garhoud), a "World Village" greets visitors with miniature architectural samples from every continent. Child-sized Dutch windmills, English Tudor cottages and Thai stilt dwellings among others, can be seen and explored.

Creekside Park
The lawn stretches to eternity here! The park boasts of well-maintained botanical gardens, an amphitheatre for 1,200 people, an 18-hole mini golf course, 14 picnic locations with modern barbecue equipment, a mini train, fishing piers, jogging tracks, imaginative children's play areas and food kiosks. You will enjoy walking or roller-blading by the Dubai Creek.
Park Timings - 08:00 - 22:00 hrs
Location - Opp. Dubai Creek Golf Club
Entrance Fees - Dhs. 5/- (Wednesday is for women & children only.)
Tel - (9714) 369082

Safa Park, located in Jumeirah, and one of the oldest in Dubai, the park features a fairground dominated by a ferris wheel, a mini city with small-scale roads, traffic lights and signs, tennis courts and a mini train.
Some more parks in Dubai.

Theme Parks
Wonderland & Splashland
Mithu, your guide and friend will take you on this trip to WonderLand- Dubai's one and only theme park with a unique Caribbean setting. Step into WonderLand and you step into a world of fun and fantasy - with rides and slides, eats and treats, games and spectacular shows for the entire family. Splashland has unique water rides to keep you cool and laughing.
For rates, special day-passes and other details, call (9714) 341222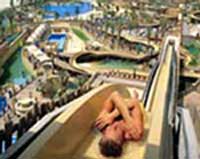 Wild Wadi Water Park
Wild Wadi is a playground of unparalleled pleasure, where guests are swept from delight to awe and where excitement flows upon excitement. Wild Wadi is a place for children to lose themselves in a world of waterborne fantasies, and for adults to rediscover the joys of the child within. Situated adjacent to The Jumeriah Beach Hotel, twenty minutes drive from the airport and the bustling modern city of Dubai. For more information, please call (9714)348 4444

Al Ain Fun-City (2 hour drive from Dubai) and the Dreamland Aquapark (located in the Emirate of Umm Al Quwain - 1 hour drive from Dubai) are other theme parks worth visiting.
More on parks in Dubai

Dubai Zoo


Dubai Zoo is the oldest zoo of its kind not only in the UAE but also in the Arabian Peninsula. Ideally located in the lush green suburb of Jumeirah, it is the first Arabian zoo to breed the rare Chimpanzee and Arabian wild cat.

The zoo houses nearly two hundred species of mammals, birds, reptiles and fish. The Arabian species in the zoo include gazelle, caracal, foxes, wolves, hyaena, wild cat, flamingo, cormorant, herons, gulls, eagles, buzzards, vultures, snakes, skunks and lizards.

Endangered species like barbary sheep, water buck, Siberian and Bengal tigers, Arabian wolves, hyaena, wild cats, scimitar-horned oryx, gorilla and chimpanzee are some of the inmates taken care of by the zoo authorities.

Back to top