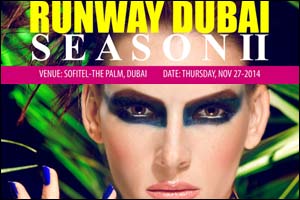 Dubai, October 23, 2014 - Runway 2015 is an event that everyone is talking about and looking forward to. Held on Thursday 27th November 2014 at the Sofitel, Palm Jumeirah you will even have to travel underwater to get to this exclusive event (via a tunnel at least!) to the Luxury Sofitel Hotel on the palm. RWD is a multi-cultural platform that has been created to feature truly creative, passionate designers. This event provides the opportunity for otherwise 'hidden' talent to be pushed to the forefront.
This Year's Runway Dubai summer 2015 is a full day event packed with a lots of fashion inspired activities from the strict dress code of black and white, to the certificate awarded fashion workshops. Guests will be expected to adhere to the strict black and white dress code if they wish to watch the fashion show taking place in the evening. RWD, being a strong promoter culture preservation purely dedicates the night's theme to the cultural kondora and abaya, the elegant attire of people in the region.
One of the key elements of this show is the Design Challenge, where seven students studying in Knowledge Village (Campustar Design College) have been short-listed to compete against each other. Aspiring Designers were given the theme 'carnival' to draw their inspiration from. The student Designers were firstly interviewed to find out how passionate they were about fashion, the stories behind their future collection and their inspiration. The final seven contestants were shortlisted by their sketches, choice of fabric and accessories. It is clear that with 5 months of relentless hard work and fierce competition, the new and up-coming talents are fully-prepared to dazzle their supporters. These selected designers will debut their creations as part of the Event on 27th November, where Guests will be revealed as to who will be called 'RWD's Next Top Designer'. The fully-fledged and publically acclaimed designer will be awarded with the honour of showcasing in RWD's next big event, as well as positions in outlets affiliated with RWD, who will support and promote their work.
Legendary Designer and mentor Walid Atallah will be one of the judges during the show.
Internationally recognised designers who will be amazing us with their designs include:
Annamaria Patronella-Italy
Si Fashion Galerie-Dubai
Helen Couture-UK
Nazreen Idris-Malaysia
Salima Tarzati-Netherlands
Khaled Alayoub-Kuwait
Shaleen Cheah-Malaysia
Walid Atallah to close the show.