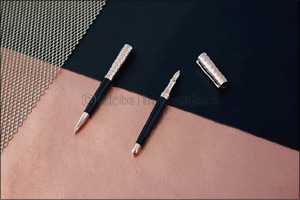 Dubai, United Arab Emirates, December 19, 2019: Faithful to its philosophy of excellence cultivated since 1872, S.T. Dupont has created "Liberté" a new collection of writing instruments devoted entirely to women.
The rounded ends, emphasized by a slender, slightly cone-shaped body, illustrate the perfect proportions of an object imbued with noble sensuality.
The beautiful contrasting materials, palladium and lacquer, highlight the exquisitely refined details of the Liberté line. The top of the cap, perfectly faceted like a brilliant cut diamond, bears the seal of the brand. The faceted clip decorates the pen with a touch of sparkle.

The Liberté pen will appeal to all women whose ideal writing instrument combine elegance, simplicity and functionality… S.T. Dupont knows that all women are unique and have individual passions.