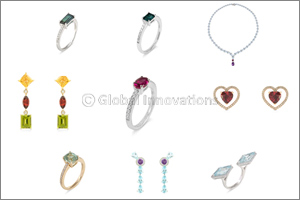 Dubai, United Arab Emirates - September 25, 2019: Noora Shawqi is the epitome of exquisite craftsmanship, as well as modern elegance and this season she is bringing her Ceylon Collection exclusively to Robinsons. Available only at the UAE's largest department store, the Emirati designer's new collection is an ode to Gem Island, Sri Lanka. Drawing inspiration from her love of travelling, Noora's fine jewellery collection combines cultural references with impeccable quality, creating statement pieces with a timeless aesthetic.
Featuring the finest golds, stunning diamonds and vibrant gemstones – this collection is a must-have this season.
Curated in Dubai by highly skilled artisans, the exquisite collection brings to life the most sought-after designs in the form of rings, necklaces and earrings.

With a penchant for exploration, Noora travelled to Sri Lanka on a quest of the Padparadscha Sapphire, a gemstone found only on the island nation and is one of the world's rarest gems. The Padparadscha named after "aquatic lotus blossom" in Sinhalese, features the most beautiful salmon colour, which is perfect for Fall.

With an expert insight into jewellery manufacturing and design, the collection features distinctive pieces in 18K gold. Taking women from day to night, the adventurous twist comes through the various precious stones such as enticing Sapphire, ultra-vibrant Aquamarine and peachy-pink Morganite. Gorgeous layered or worn alone, the rings embody the charm of multi-coloured Tourmaline, violet Sapphire and Spinel. Citrine and Garnet make up delicate dangling earrings, whilst the Rhodelites lend a sophisticated aesthetic to the pendants.

Noora's distinctive collection encourages women to be brilliant, adventurous and unique and is the ultimate addition to any jewellery collection.

Shop the exclusive collection today at Robinsons.