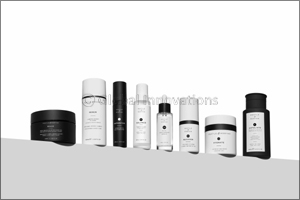 **A less is more philosophy from Irish skincare brand **
Dubai, United Arab Emirates - September 16, 2019: Pestle & Mortar is an Irish skincare brand which has exploded onto the global skincare market in recent months. The brand founder, Sonia Deasy, entrepreneur and mother-of-five, cites the following as her brand philosophy, her motivations and the inspiration behind her product formulations.
"Fuelled by a desire to simplify multi-step skincare routines and frustrated by the lack of affordable skincare solutions which produced the desired results, I decided to create my own. My immediate family ancestry of six generations of Indian medicine was instrumental in creating shaping my vision for Pestle & Mortar. I fused nature with science to create a range of skincare products that provide simple solutions for beautiful skin.
My formulation mantra is 'simple, natural, effective and suitable for all'. I believe that daily skincare routines should be simple and provide cumulative benefits with consistent use. The Pestle & Mortar less-is-more philosophy extends throughout every aspect of the brand, from product formulation through to packaging and dispensing mechanisms."
The Product Range
There are currently eight products in the fast-growing Pestle & Mortar range, each the recipient of numerous beauty awards. Each product boasts its own key benefit and active ingredients are cossetted in Deasy's breakthrough synergistic formulations.
Cleansing & Toning
A beautiful skin journey must begin with an effective cleanse and tone routine. Pestle & Mortar's cleansing and toning products deliver skin that is thoroughly cleansed, prepped and nourished.
Erase Balm Cleanser – AED 245
Erase is a lightly scented balm cleanser formulated with hydrating, cleansing and skin-soothing natural oils. Erase thoroughly removes all traces of make-up and grime from the skin whilst at the same time delivering nourishing and hydrating skin benefits.
Renew Gel Cleanser – AED 245
Renew is a 100% natural illuminating gel cleanser formulated with fruit enzymes and superoxide dismutase which tightens and unblocks pores, improves skin tone and delivers a complexion which is illuminated, super-clean and polished.
Exfoliate Toner – AED 155
Exfoliate is a gentle yet effective glycolic acid toner which evens-out skin tone, brightens the complexion, tightens pores and promotes skin cell renewal. With a free acid-value of 6.8% and a pH of 3.8, Exfoliate is suitable for all skin types and delivers instant skin benefits. Formulated with skin brightening and toning ingredients, Exfoliate diminishes dullness to deliver a glowing and rejuvenated complexion.
Balance Spritz – AED 180
Balance is a fine misting facial spritz formulated to refresh, calm and clarify the skin. Balance delivers hydration, improves skin health, balances sebum production and reduces skin pollution in a formulation that is blended with deep sea Irish magnesium, amino acids and herbal extracts.
Hydration
Pestle & Mortar's hydrating heroes deliver a powerful set of super-ingredients that target dryness, dullness and dehydration, allowing your skin to look and feel its best every day.
Hydrate Moisturiser – AED 270
Hydrate is a soft and lightweight skin moisturiser formulated with tri- and tetra-peptide technology and natural moisturising factor squalene which hydrates, soothes and softens the skin whilst providing anti-ageing benefits and stimulating collagen production.
Recover Eye Cream – AED 215
The unique formulation which is Recover is a soft and lightweight eye cream formulated with the active ingredient palmitoyl tripeptide-5 which serves to diminish fine lines, improve skin texture, reduce puffiness and reduce dark circles around the eye area. Recover is a brightening, nourishing and hydrating eye-cream which is easily absorbed into the skin
Anti-Ageing
These anti-ageing products are blended with high performance ingredients that the skin uses to repair itself, defend itself and rejuvenate itself. You will be armed with all you need to maintain a youthful complexion.
Pure Hyaluronic Serum – AED 245
Pestle & Mortar's Pure Hyaluronic Serum is a lightweight fragrance-free serum which is super-hydrating & anti-ageing. This Pure Hyaluronic Serum combines multi-molecular weight hyaluronic acid with skin-softening panthenol in a formulation which diminishes fine lines & wrinkles, provides superior hydration and delivers an instant skin-plumping and firming effect.
Superstar Night Oil – AED 425
Superstar is a retinoid night oil which supercharges the skin while you are sleeping. Formulated using two types of retinol in a base of cold-pressed, organic and steam distilled oils, Superstar balances oil production, stimulates collagen production and refines the skin's surface without causing irritation.
Pestle & Mortar is passionate about the science of skincare and natural healing. Both of these passions are fused in Pestle & Mortar product formulations as science and nature go hand in hand. Having a biochemist as part of the brand family and having an Indian natural healing heritage lends Pestle & Mortar the license to do this with authenticity.
Pestle & Mortar has applied its philosophy of 'simple solutions for beautiful skin' across all aspects of the brand from ingredient formulations through to stunning monochrome packaging and clever dispensing mechanisms.
Pestle & Mortar is 100% cruelty free, free from parabens, mineral oil, silicones, sulphates and is 100% vegan.
The full range will be available from October onwards from Faces and and www.beautysolutions-me.com with more retailers to be announced soon. Prices start from AED85.