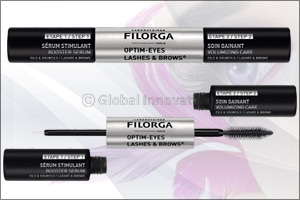 Boost your lashes and brows with a luxury two step serum and volumising treatment with proven results in 14 days
Dubai, UAE, February 15, 2018: Why should your eye care regime end with the skin? As well as perfectly framing your face, your brows and lashes are the perfect protectors for your beautiful eyes, and keeping them healthy, lush and strong is as important an addition to your regime as looking after your delicate skin.
Think of your brows and lashes as ' bodyguards' for your eyes and you'll understand the importance of treating them well and keeping them both healthy and looking gorgeous.
With that in mind, Filorga introduces the brand new Optim-Eyes Lashes & Brows treatment - a double effect treatment capable of restructuring and enhancing lashes and brows in just two steps. Restoring a glamourous look to eyes has never been so easy regardless of whether you are an expert beauty lover, a beginner or simply looking for more volume, with or without make-up.
With proven results within just 14 days, Optim-Eyes Lash & Brow means a denser lashfringe, 90% less lash shedding, 83% more resistant lashes, 83% more nourished and moisturized lashes and improved look and use of your regular mascara. For brows, the treatment densifies, protects and enhances, with 73% thicker, less sparse brows, leaving them silky and nourished.
STEP 1. A BOOST FOR LASHES & BROWS
On one end you will find an ultra-precise liner tip to deposit ingredients close to the lash and brow roots.
The formula has two complexes that are capable of acting on lash & brow growth: First, the Kera-Extend CX complex, a combination of Biochanin A, peptides and bio-tech micro-algae, stimulates keratin synthesis during the anagen phase. Results: lashes and brows are longer and denser. Second, the Kera-Maintain CX complex, with a base of Peptide Biotinyl-GHK and panthenol. These two ingredients act together to strengthen the epithelial matrix to improve lash and brow rooting in the follicle. Results: lashes and brows that are more resistant, and less prone to falling out. These 2 complexes are combined with NCTF®, FILORGA's signature revitalizing cocktail. It has shown spectacular results for redensifying hair in medical treatments.
Apply the stimulating serum morning and night on thoroughly cleansed lashes and brows as close as possible to the roots. The thin brush makes it easy to deposit the serum with precision.
STEP 2: AN INSTANT COAT FOR LASHES & BROWS
On the other end, a specially designed mascara brush that helps deposit the product evenly to coat the lashes and brows.
The formula's colourless base includes a protein-led nutritive matrix that diffuses the formula to the heart of the bre and, helps to restructure and nourish them while weaving a coat of micro-mesh. Lashes and brows are immediately thicker and more defined, even without make-up. The treatment also works as a base coat for mascara to increase its hold.
Apply the coating treatment morning and night, just after the serum, from the roots to the tips of the lashes and brows. The brush perfectly coats each lash and each eyebrow hair.
Filorga Optim-Eyes Lash & Brow treatment is priced AED 275 and is available in leading pharmacies including Bin Sina Pharmacies, Boots Pharmacies, Supercare Pharmacies, Planet Pharmacies, Health First Pharmacies and Community Pharmacies.