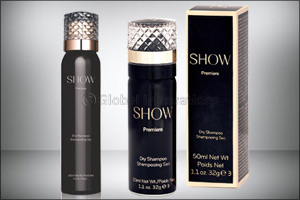 The low-down on applying dry shampoo
Dubai, UAE, February 12, 2018: For a woman, a good day is a good hair day! And she can always count on a trusty dry shampoo to ensure just that. Dry shampoos work wonders when it comes to reviving limp hair, banishing greasy scalps and boosting volume, allowing for fresh, well-styled hair all throughout the week with much less effort, no soap, and no water. They are easy to use, travel-friendly and the best quick fix for a perfect hairdo. Here are some tips for the perfect application of SHOW Beauty's Premiere Dry Shampoo:
Apply it to dry hair. Do not spritz on hair that's even slightly damp because it creates product build-up at the roots which could clog up the follicles and affect scalp health. It will also appear dry and flaky.
Less is more. Applying too much product can make your hair look dull. Spray a little, then wait a few moments for it to settle before spraying some more if necessary.
Don't go all out everywhere. Spray on hair around your ears, at the nape of your neck and around your face and roots. These are the areas that are most prone to greasiness. You want to make sure the product soaks up the excess grease.
All-round refresh. To freshen up your locks and for an extra oomph, divide your hair into sections and spray the product on roots and hair from an arm's length distance. Massage your roots with your fingertips and give your hair a shake. Brush through to ensure that the product has been absorbed completely.
SHOW Beauty's Premiere Dry Shampoo is a volumizing dry shampoo available in 265ml at a retail price of AED 175. It absorbs impurities and oils whilst providing added texture and shine without leaving residue between styling. The colourless natural formula's patented polymers including tapioca powder and rice starch withdraw impurities and absorb oil at the root, while a unique blend of botanical extracts including aloe vera, mango, kiwi and ginger lily condition and protect against moisture loss, elevating your style between washes.
The luxe dry shampoo is also available in a mini travel size of 50 ml and retails for AED 90. It's the perfect companion on any trip, be it business or pleasure.
SHOW Beauty dry shampoos and the rest of the product range is available for purchase from Harvey Nichols Dubai, Bloomingdales Dubai Mall and online.