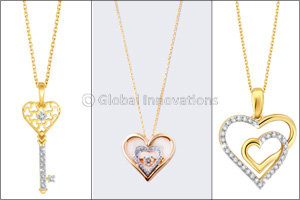 Celebrate love with all your heart and one of three exclusive Pure Gold Jewellers' special edition diamond pendants this Valentine's Day.
Dubai, UAE January 21, 2018 – Pure Gold Jewellers has released an exquisite selection of special edition diamond pendants available at all stores across the GCC, as well as duty free stores in Jordan and Changi, Singapore to celebrate love for Valentine's Day. Not only are the three exclusive pieces eloquently designed and feature key and heart-shaped designs accented with diamonds, but each piece also comes with a free AED 750 discount voucher for use at any Pure Gold Jewellers store, free lifetime repair warranty, and double loyalty points for Royalty Rewards members.
The three distinctive designs symbolize timeless and everlasting love through stylish intricate blends of gold and diamonds, highlighting the everlasting, protective, and connected nature of your strongest relationship. These special edition pieces are available from just AED 1,099.
With the purchase of each special edition diamond pendant at any Pure Gold Jewellers' outlet in the GCC, each customer will receive AED 750 back as a free discount voucher.
Each customer will also receive double points on their Royalty Rewards membership with each purchase of a special edition Valentine's pendant. Designed specifically to be a cut above the rest, Royalty Rewards will earn you 'royalties' in cash points for very purchase made at Pure Gold Jewellers. With four rewarding tiers ranging from Silver and Gold, to Platinum and Diamond, customers can enrol at any Pure Jewellers' store and begin earning points.
The Valentine's Day gold and diamond pendant collection will be available throughout the GCC at Pure Gold Jewellers' stores, as well as duty free stores in Changi, Singapore and Jordan, from January 20 to February 17, and with AED 750 cashback as a free discount voucher, free lifetime repair warranty, and double Royalty Rewards points, this exquisite collection truly captures the spirit of love this Valentine's Day.
Give your partner the key to your heart. Accentuated with nine diamonds along the key and a focal stone embedded at the heart's centre, this piece is sure to unlock your partner's deepest love. AED 1,099.
The connected hearts design mirrors the love between two partners, symmetrically reflecting the balance in love. The connection joining these two hearts is reminiscent of the infinity symbol, and with this special edition diamond pendant, she will most certainly love you forever. AED 1,099.
The embedded hearts design, with outer gold contours and inner diamond curvatures, signifies the protective nature of a loving relationship, while the central stone joins both hearts together. Melt her heart this Valentine's Day with this exceptional piece from Pure Gold Jewellers. AED 1,299.