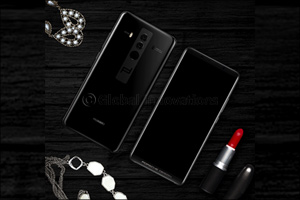 Get your hands on the most coveted smartphone in town
Dubai, UAE, December 18, 2017: What happens when you bring a legacy of luxury and horsepower together with the world's most powerful Artificial Intelligence (AI) smartphone? You get an envy-inspiring, high-performance, sophisticated piece of technology – the Porsche Design HUAWEI Mate 10.
A product of the partnership between the two brands, Porsche Design and HUAWEI, the limited edition smartphone is built for luxury aficionados, purveyors of style and the crème de la crème of society, who want to experience the joy of unmatched speed, unsurpassed performance and unrivaled design.
It's the model tech-savvy trendsetters have been waiting to show off. Whether you walk into an important business meeting or stroll into a cafe for high tea, place your new Porsche Design HUAWEI Mate 10 on the table and it will immediately attract glances, both curious and envious. A signal of appreciation and recognition of sorts as they whisper amongst themselves: who is that person and what is that special object they're holding?
A model that sets you apart from the crowd, the designer smartphone sports an exclusive look and feel with signature craftsmanship and distinguished Porsche racetrack stripes to show off its speed heritage. The glass uni-body construction and sleek handcrafted exterior is complemented by innovation and performance - intelligent speed, intelligent power and an intelligent camera.
The Porsche Design HUAWEI Mate 10 is the most powerful Mate Series smartphone, with a 6GB RAM + 256GB ROM storage solution that maximizes performance. Featuring Kirin 970, the world's first smartphone chipset with a dedicated Neural Network Processing Unit, the Mate 10 series marks the beginning of a new era of smartphone development that brings the future to life with the first ever truly intelligent devices.
Huawei is holding an exclusive event for their key VIP guests to unbox the epitome of luxury, design and performance, PORSCHE DESIGN HUAWEI Mate 10.
The designer model is built to match the lifestyles of the influential, powerful and glamorous and is priced at AED 5299. PORSCHE DESIGN HUAWEI Mate 10, the coveted edition is exclusively available in Diamond Black, and delivered in true UAE style with special premium packaging, custom accessories and VIP member services.