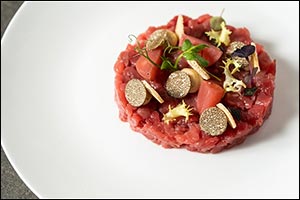 Lungarno Collection, known for curating exceptional hospitality experiences, is celebrating the arrival of Italy's much-awaited truffle season. Across its three Portrait hotel locations, Milan, Florence, and Rome, Lungarno Collection offers an exclusive journey into the captivating world of truffles this fall.
Guests at Lungarno Collection's Michelin-starred restaurant, Borgo San Jacopo, located just moments away from the Portrait Firenze, Florence, are invited to immerse themselves in the exquisite world of truffle gastronomy through the carefully curated a la carte menu. Chef Claudio Mengoni has crafted a masterful menu, showcasing the finest Italian ingredients in dishes such as the delectable Porcini Mushroom Ravioli with hen consommé and black truffle.
To further enrich your culinary journey, guests can also savour the degustazione menu, AUTUMN, with its dedicated dish: Mushroom Soup with Porcini, Chantarelles and Trumpets, with buffalo ricotta and black truffle. The fine flavour of the truffle perfectly harmonises with Sommelier Salvatore Biscotti's selection of approximately a thousand wine labels, from both renowned estates and artisanal, small-scale producers.
For our more adventurous guests and families, truffle season presents a unique opportunity to immerse yourself in the classic truffle hunt. Savini Tartufi, a local family-run business whose passion for truffle spans four generations, offers exclusive truffle hunts. Here, you can join skilled truffle hunters and their delightful, specially trained dogs in the heart of the Tuscan forest, creating an unforgettable and exhilarating truffle-hunting experience.
At Savini Tartufi, you can also indulge in personalised truffle tastings, ranging from lunch options to snacks and dinner offerings, to get a taste of the best fresh seasonal truffles. Alternatively, you can step behind the stove in the 'A Tutto Tartufo' - Truffle Experience, a cooking class where you can unveil the secrets of crafting authentic truffle delicacies. Under the expert guidance of Savini Tartufi's skilled chefs, guests can discover the nuances of truffle-infused cuisine.
Travellers seeking to explore a range of Italy's breathtaking destinations during truffle season can also opt for a a brief sojourn in Lungarno Collection's exceptional facilities in Milan or Rome. In Milan, the heart of the fashion district hosts the exquisite Portrait Milano, while the vibrant ambiance of Rome can be experienced from the comfort of Portrait Roma, a 5-star boutique hotel nestled in the city's most exclusive shopping district.