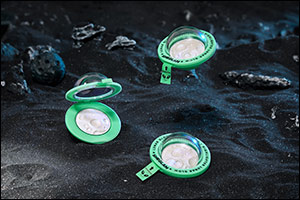 Unearth a universe of beauty with SHEGLAM's newest release - the Cosmic Come Up Collection Set. A celestial invitation to all makeup aficionados seeking the extraordinary, this collection is an ode to the enigmatic allure of the cosmos. Featuring a bold 12-pan eyeshadow palette, four shimmering eyeliner pencils, two mini lipstick sets, an ultra-blinding shimmering highlighter, and an adorable alien-shaped beauty sponge, this collection allows you to express your unique style in a truly cosmic fashion. Whether you're a free spirit or a non-conformist beauty lover, this collection beckons you to embrace your distinctiveness and embrace the allure of the galaxy.
Ready to explore the unknown? If you've got a cosmic state of mind, our Alien Mood Eyeshadow Palette is your perfect match. With 12 stellar shades, ranging from creamy mattes to flashy metallics, this palette is highly-pigmented and easy to blend—everything you need for that perfect otherworldly makeup look! Shaped like a spaceship, could you be the chosen one?
Enter our Milky Way Eyeliner Pencil which is your cosmic eye makeup enhancer! Crafted to boost your glam, these pencils are available in four distinct shades. Every eyeliner boasts an ultra-smooth texture, intense pigmentation, and delicate shimmering glitter flecks—your ticket to crafting an eye look that's truly out of this world. Get ready to rock a gaze that can be admired even from the depths of outer space.
Sail beyond the realms of ordinary with our Hi-Beam Mini Matte Lipstick Set! These lipsticks will transport you to the farthest reaches of the galaxy with a collection of bold, fearless shades and a set of classic, elegant nudes.Even extraterrestrial beings can't resist a touch of makeup fun! Each set comprises four competitive shades that are sure to make your lips the center of the cosmic spotlight.
Light up the universe with our Lunar Glow Highlighter and achieve a dazzling glow that extends to the farthest reaches of space! With its distinctive blue-green reflective sheen, this highlighter will leave all extraterrestrials mesmerized by your luminous radiance. Shaped like a spacecraft, its shimmering glow sets you apart at the cosmic soiree.
Meet the mesmerizing Interstellar Beauty Sponge—an absolute essential for flawless beauty. Blend, blend, blend away with this beauty sponge that simplifies base application and catapults your makeup look to cosmic heights. Drawing inspiration from our green alien friends, this sponge is designed for perfection. Utilize the tapered tip to reach those tricky spots, and the wider base for seamless full-face coverage. Your makeup routine just found its extraterrestrial partner!
As a perfect conclusion to this interstellar journey, when you purchase the complete set, you'll receive a pair of extraterrestrial-inspired glasses—a symbol of our shared cosmic exploration. Let the Cosmic Come Up Collection be your passport to the ultimate cosmic party. Explore the depths of the universe and adorn yourself with the brilliance of the stars.
For more captivating beauty products, visit SHEGLAM.COM and search for the Cosmic Come Up Collection series. Unveil the mysteries of the cosmos and get ready to be part of this extraordinary galactic festivity. Join the cosmic celebration!