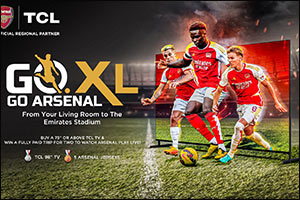 TCL offers one lucky couple a once-in-a-lifetime experience to witness an Arsenal match live at the Emirates Stadium in London
Dubai – October 13, 2023: TCL Electronics (1070. HK), the global top 2 TV brand and top 1 98-inch TV brand, one of the dominant players in the global TV industry and leading consumer electronics, showcased the first TCL 98-inch QLED TV available in the UAE market. Experience Grandeur with TCL's XL Collection! Buy a TCL XL television (75 inches or larger) and enter for a chance to win an all-expenses-paid trip for two to London, where you can relish the excitement of witnessing Arsenal in action at the Emirates Stadium! But that's not all – there are other incredible prizes up for grabs, such as a brand-new colossal 98-inch 4K TV and five official Arsenal jerseys to sweeten the deal! Don't let this golden chance slip through your fingers. Elevate your home entertainment and make your football dreams come true.

Introducing the newest member of TCL's XL Collection, the 98P745. Aligned with TCL's brand motto, 'Inspire Greatness,' these acclaimed large-screen televisions provide a completely immersive experience by combining cutting-edge TV technology with Google TV, ensuring viewers can relish top-tier picture quality and premium content. In 2023, TCL is set to further extend its XL Collection to various global markets.

The fresh XL Collection showcases TCL televisions boasting screen sizes surpassing 75 inches. With a diverse range of screen sizes and technological options, the XL Collection's televisions are designed to accommodate various budgets while surpassing home entertainment expectations. They bring larger-than-life home-viewing experiences to individuals across the globe. Harnessing the potential of technology, these extra-large screens provide more powerful, immersive, and captivating visual experiences that can genuinely transport entertainment enthusiasts, movie buffs, sports aficionados, and gamers from the screen into their beloved realms. It's a journey from the screen to the stadium.

As TCL launches its XL Collection campaign, it brings forth a tantalizing array of rewards to enrich the home entertainment experience. The crowning jewel of this campaign is the first prize—a bespoke couple's trip to London including an exclusive opportunity to witness the live brilliance of Arsenal at the iconic Emirates Stadium. The second prize beckons with a stunning 98-inch TV from the XL Collection, promising a visual extravaganza that transcends conventional viewing. The third prize features official Arsenal jerseys for ardent fans, encapsulating the spirit and fervor of the game. These coveted prizes encapsulate TCL's unwavering dedication to innovation and its mission to infuse passion into every home's entertainment journey.

The TCL XL Collection TVs have an elegant frameless design that fits easily into any interior and ensures maximum picture view to provide an immersive viewing experience without distraction. The 98-inch C735 featuring Google TV is the largest in the series, with QLED technology 4K resolution that delivers immersive entertainment viewing with stunning color performance. TCL designed the 98-inch C735 to emulate the best seat in the movie house.
These XL screens also allow sports fans to enjoy an immersive experience as if they are at the stadium – just in time for the major sporting events taking place this year! TCL will bring excitement and happiness around the world, especially through the world's most popular sports.

With the XL Collection offering fantastic picture quality, TCL has worked hard to develop a series of products that deliver the immersive audio needed to match the screens' excellent performance. Enjoy incredible clarity with greater emotion and room-filling sound with Dolby Atmos.