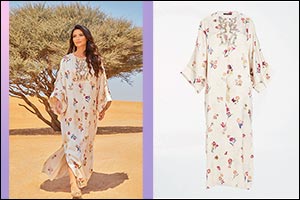 United Arab Emirates - April 13, 2021: In anticipation of the Holy Month of Ramadan, Max Mara is pleased to announce the launch of a kaftan, exclusively designed for the Middle East.

Drawing inspiration from modest traditions, Max Mara's silk ivory kaftan is decorated with an intricate colourful floral print. Its silhouette is sophisticated yet relaxed, with wide kimono sleeves and elegant side slits. The refined plastron is embellished with delicate jewels and an ornate stitched floral design, with beaded tassels to draw the draping neckline.

Perfect for Ramadan gatherings, Max Mara's kaftan is a timeless design, for the modern Middle Eastern Woman.