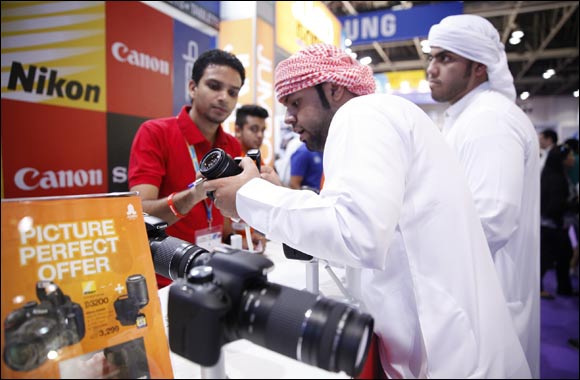 Shopper Smart Living opens new world of value for visitors with latest appliances and home tech gadgets
Dubai, United Arab Emirates, March 23, 2015: Tech enthusiasts and savvy shoppers will enjoy big deals, low prices and a number of new and exciting competitions at this year's GITEX Shopper Spring. Returning from 1 – 4 April at Dubai World Trade Centre (DWTC), the region's largest consumer IT and electronics show is bursting at the seams with the latest gizmos and gadgets, giving consumers the chance to stay abreast of the latest technological innovations and benefit from competitive discounts and offers.
For the first time ever, visitors at GITEX Shopper Spring have the opportunity to win 40 solid bars of gold or the value of their purchase back in vouchers, when they spend over AED 2,500*. Just purchasing a ticket to the show is enough to put some lucky visitors in the running to win a Samsung Galaxy A5 smartphone, with 10 to be given away every day. The "Scratch and Win" raffle gives visitors the chance to take home a wide range of Samsung products including the Samsung Tab S, microwave ovens, vacuum cleaners, printers and monitors, while the luckiest of all shoppers will drive away from the show in a brand new Mitsubishi Pajero Elite.
Also new to the show this year, the co-located Shopper Smart Living seeks to bring the latest in home appliances, energy efficient white goods and smart home technology. The new dimension will showcase the latest in innovation and eco-friendly advances in everything from washing machines, refrigerators and dishwashers to air conditioning units, ionizers and lighting.
"GITEX Shopper Spring is the perfect place to stock up on all the latest tech products for work, home or school at the absolute best prices. This edition promises more choice, more savings and a more convenient shopping experience than ever before, and we promise a wealth of exceptional deals, new product launches, and a full day's entertainment every single day of the show," said Trixie LohMirmand, Senior Vice President, DWTC, organiser of GITEX Shopper Spring.
Showcasing an unrivalled range of products in Sheikh Saeed Halls 1, 2 and 3, GITEX Shopper Spring is once again bringing some of the region's biggest brands and retailers together under the same roof. Returning for another edition, Axiom Telecom, E-City, EMax Electronics, Hurricane Marine General Trading, Jacky's Electronics, Jumbo Electronics, Plug Ins Electronix, Samsung Gulf Electronics and Sharaf DG will be among the big names offering the best deals and lowest prices.
Speaking ahead of the show, Marco Vocale, Head of Corporate Marketing, Samsung Gulf Electronics said, "GITEX Shopper attracts consumers from across the region, and this year we're excited to give every visitor the chance to experience our new flagship devices, the Samsung Galaxy S6 and Galaxy S6 edge. Visitors to the UAE's largest electronics show can pre-order our entirely redefined smartphones straight from our stand. Customers can also expect to see our slimmest smartphones to-date, the Samsung Galaxy A3, Galaxy A5 and Galaxy A7 on display, along with our digital appliances and our smart TVs. Shoppers can look forward to exciting promotions and unbeatable deals."
Jacky's Electronics has been participating at GITEX Shopper for the past 15 years and at the Spring edition of the show since its inception. Citing the show as one of the most important events for interacting with loyal customers, Mahesh Chotrani, Assistant Vice President, Jacky's Electronics, said: "GITEX Shopper Spring gives us an added opportunity to provide our customers with more value and an enhanced shopping experience. We are expecting quite a few launches of exciting products for this event, including the Samsung SUHD TV with nano-crystal technology."
Nadeem Khanzadah, Head-OmniChannel Retail, Jumbo Group, the UAE's leading distributor and retailer for IT & consumer electronics, said: "Jumbo is pleased to be back at a new edition of GITEX Shopper Spring, with an exciting new range of bundled offers and value-added deals. Our focus categories will be smartphones, laptops, and televisions - which have been attracting the most takers since the start of 2015 - and we are confident of showcasing the latest and best for consumers at the event."
Exhibiting at the show for the first time, Swithin D'Silva, Regional Sales Director, Vsun said: "VSun mobiles offer unique new features and advanced specifications for next generation smartphones (powerful Octa Core Processors) and cool 'gesture control' features, at unbelievably low prices. There will be ongoing competitions and social media activities happening at the VSun stand where participants will win big prizes throughout the show."
Promising shoppers the widest variety of products and the best prices under one roof, fun activities for families and a dedicated Metro station just steps away, the spring edition is a premier not-to-be-missed event.
GITEX Shopper Spring 2015 will take place from 1 - 4 April and opens from 11:00am – 11:00pm every day.
Tickets are AED20/- per person, include access to both GITEX Shopper Spring and Shopper Smart Living and are available at the venue and select Emarat outlets. Entry is free for children under the age of five.